Legal Practitioners and other staff members attached to the Attorney General Chambers and the Ministry of Legal Affairs have been barred from attending a major oil and gas law – training and development conference, unless they have the permission of the Attorney General.
The Attorney General is currently out of the country on official duties.
The two-day training and development conference which opened today,  has been organised by the Judiciary and the Bar Association. 
According to an unsigned Memorandum from the Permanent Secretary (ag) of the Ministry of Legal Affairs which is dated March 8th, 2018, and posted on the Ministry's notice board,  "No Staff" is permitted to attend the Oil and Gas Training and Development Conference hosted by the Bar Association.
The Memo, which was addressed to all staff and which was seen by New Source also stated that persons can only attend the conference after they have secured permission from the Attorney General and Minister of Legal Affairs, Senior Counsel Basil Williams.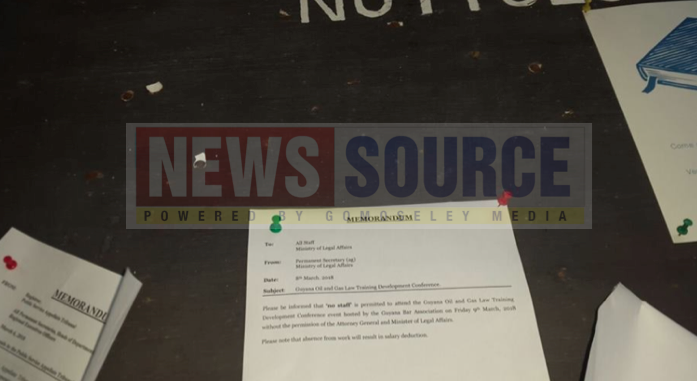 "Please note that absence from work will result in salary deduction," the memo threatened.
The Permanent Secretary (ag) Tamika Barkoye who penned the memorandum was not available to speak to News Source on the matter when a call was placed to her office.
However, News Source was able to contact the Attorney General via his Facebook page.
In response to our questions about the decision behind staff members being blocked from the conference, Senior Counsel Williams said he had no knowledge of the Oil and Gas Conference for legal practitioners until it was briefly mentioned to him on the eve of his departure.
"If I had been included in the loop as Head of the Bar, I would have been able to make decisions like a Saturday or if on a weekday, make arrangements as to how the Government's work would be done" he said.
Mr. Williams said if the organisers wanted the Attorney General and his Chambers at the Conference, they would have gived adequate notice of the event and inquire whether certain dates were acceptable and adjust accordingly.
He also noted that the AG Chambers is currently preparing for the Third Term case which is coming up before the Caribbean Court of Justice on Monday.
The two-day training and development conference intends to explore the legal framework in oil and gas law.
The opening was attended and saw at least three sitting Government Ministers present.
The feature address was delivered by Minister of Natural Resources, Raphael Trotman.