Sugar workers at the Albion and Blairmont estates picketed today while accusing the Guyana Sugar Corporation of ignoring their plight and calls for improved wages and salaries.
Last Friday, sugar workers from the Uitvlugt estate returned to the picket line for the same issue.
Like the workers at Uitvlugt, the sugar workers at Albion and Blairmont made a single collective call on Guysuco to address the long-outstanding dispute in earnest.
The sugar workers today said they are peeved that the sugar company remains mum on the issue about increasing their wages and salaries.
The Guyana Agricultural and General Workers Union today urged Guysuco to return to the negotiating table with a view to having the matters settled.
The protesting workers complained that while they are not unmindful of the Corporation's situation, it appears that GuySuCo is neglectful of their plight.
The workers said they are prepared to listen to any reasonable proposal from the sugar company, but noted that all they have been hearing is a deafening silence.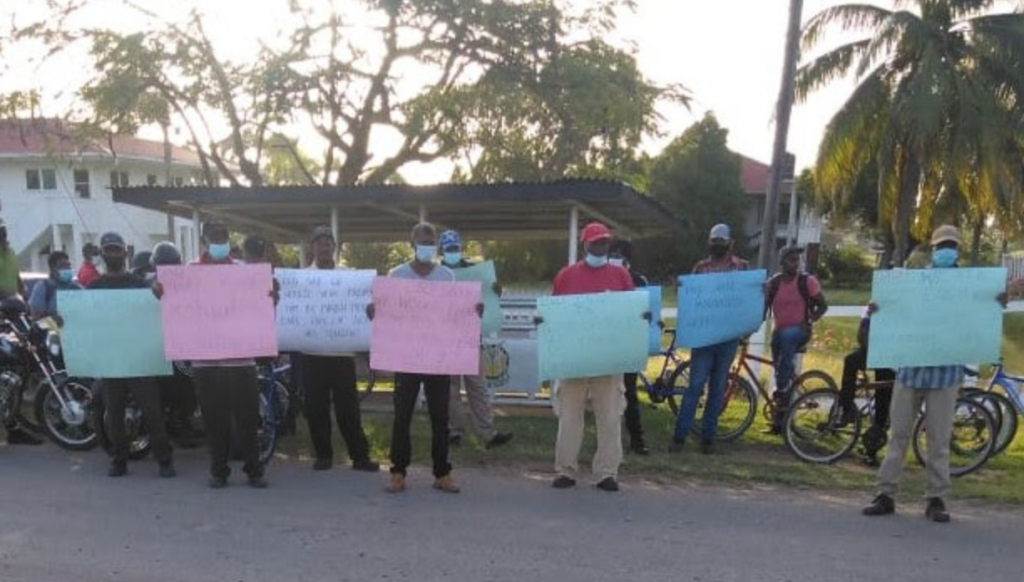 GAWU today reminded that GuySuCo had promised to reach out to them by the end of March, but there has been no movement in that direction. They want the sugar company to indicate when it plans to return to the negotiating table to finalize the issue. GAWU is confident that an agreement could be reached.
GAWU said it has welcomed statements from the Minister of Agriculture that the Government may seek to get involved in the situation to bring it to some closure.
The workers and the Union said they remain hopeful that the Corporation can return to the bargaining table and return with clean hands
"We believe that serious discussions could see the parties resolving their differences and resulting in a satisfactory agreement. Our Union, during previous engagements with GuySuCo, has indicated our willingness to re-examine our position. Such re-examination, however, is predicated on the sugar company demonstrating its sincerity to finding an agreement and narrowing the differences that currently exist", the sugar workers said in a statement.