The Ansa McAL Trading Company in Guyana has expressed its worry and concern over the increasing number of counterfeit products on the local market and many of those counterfeit products appear to be bargain brands of products distributed by the company.
In Guyana, Ansa McAl serves as the authorized distributor a wide range of products from Procter & Gamble, Heineken and GlaxoSmithKline (GSK), Novartis, Alcon, Grace Kennedy amongst many others, with brands such as Olay, Head & Shoulders, Pringles, Monster Energy Drink, Ariel soap powder, Tropical Rhythms, Bumble Bee, Sqezy, Panadol, and Andrews among others. The company said  "we can only guarantee quality, freshness and the integrity of the products and brands we represent".
Just over two weeks ago, local authorities noticed several brands of counterfeit shampoo and conditioners being sold on the local market carrying the established well known brands of products distributed by Ansa Mcal.
At a Tuesday Press Conference, Ansa Mcal Guyana Chief Executive Office, Beverly Harper said it is important to note that counterfeit products often remain with the 'importers'  longer than is recommended and when the products become aged and expire these products with questionable ingredients are sold to unsuspecting consumers at a heavily discounted price.
She said "counterfeit drugs raise major public health concerns as their quality, safety and effectiveness are unknown. Furthermore, there is the longterm reputation damage to genuine products and trusted brands that is caused by counterfeit brands when people are not aware of a fake vs. a real product".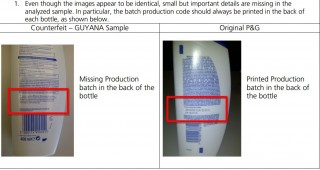 The company said it also finds it disturbing that there are those who "manufacture and distribute counterfeit goods/drugs without any reservations; this shows that apart from ignoring the health risk they are defrauding consumers, as well as preventing consumers from receiving a safe, effective product that was supposed to help them; whether it be pharmaceutical to improve their health or a shampoo to keep their hair clean".  Harper said she is also surprised that  some local wholesalers and outlets are willing to take the risk of both buying and selling these products to consumers who trust them.
"We at ANSA McAL are determined to raise the awareness of these goods by educating our consumers about the dangers of using these counterfeit goods and work along with the Government Analyst Food & Drug Department and the Guyana Revenue Authority to curtail the selling of these items", the CEO said.
The company wants the public to take charge and report counterfeit products to the relevant authorities such as the Guyana Revenue Authority and the Food and Drugs Department.
The Procter and Gamble Company in the United States carried out several tests of products being sold under its brand and those tests confirmed that the products were counterfeit. Those products included shampoos and conditioners under the Head and Shoulder Citrus brand, Pantene Smooth & Silk and Olay Total Effect 7. The companies are encouraging consumers to pay attention to the labels of the products that they are purchasing and to also pay attention to the discounted prices being offered.