The APNU+AFC Coalition officially filed its election petition cases this morning against the March 2020 elections.
APNU+AFC Candidate, Senior Counsel Roysdale Forde filed the court documents on behalf of the applicants Claudette Thorne and Heston Bostwick.
The two want the Court to determine the legality of the elections and the results that led to the declaration and the allocation of seats in the National Assembly.
Former President and Chairman of the APNU+AFC Coalition, David Granger, was among senior coalition officials outside the Courthouse as the petitions were being filed. Scores of protesters gathered behind barricades in support of the move.
Mr. Granger told reporters that "the APNU+AFC Coalition does not accept the validity of the (election) report which was presented. We have compiled a dossier of anomalies and irregularities and APNU+AFC Coalition is convinced that if due consideration is given those anomalies and irregularities, it will be shown that the declaration which was issued, on the 2nd August 2020 is incorrect and invalid".
He said the filing of the petitions addresses several issues including the validity of the electoral process and the declaration.
"We have set out today to establish the invalidity of the declaration and so if these anomalies and irregularities are taken into consideration, the outcome will be different. That is our mission and that is why this petition has been presented today".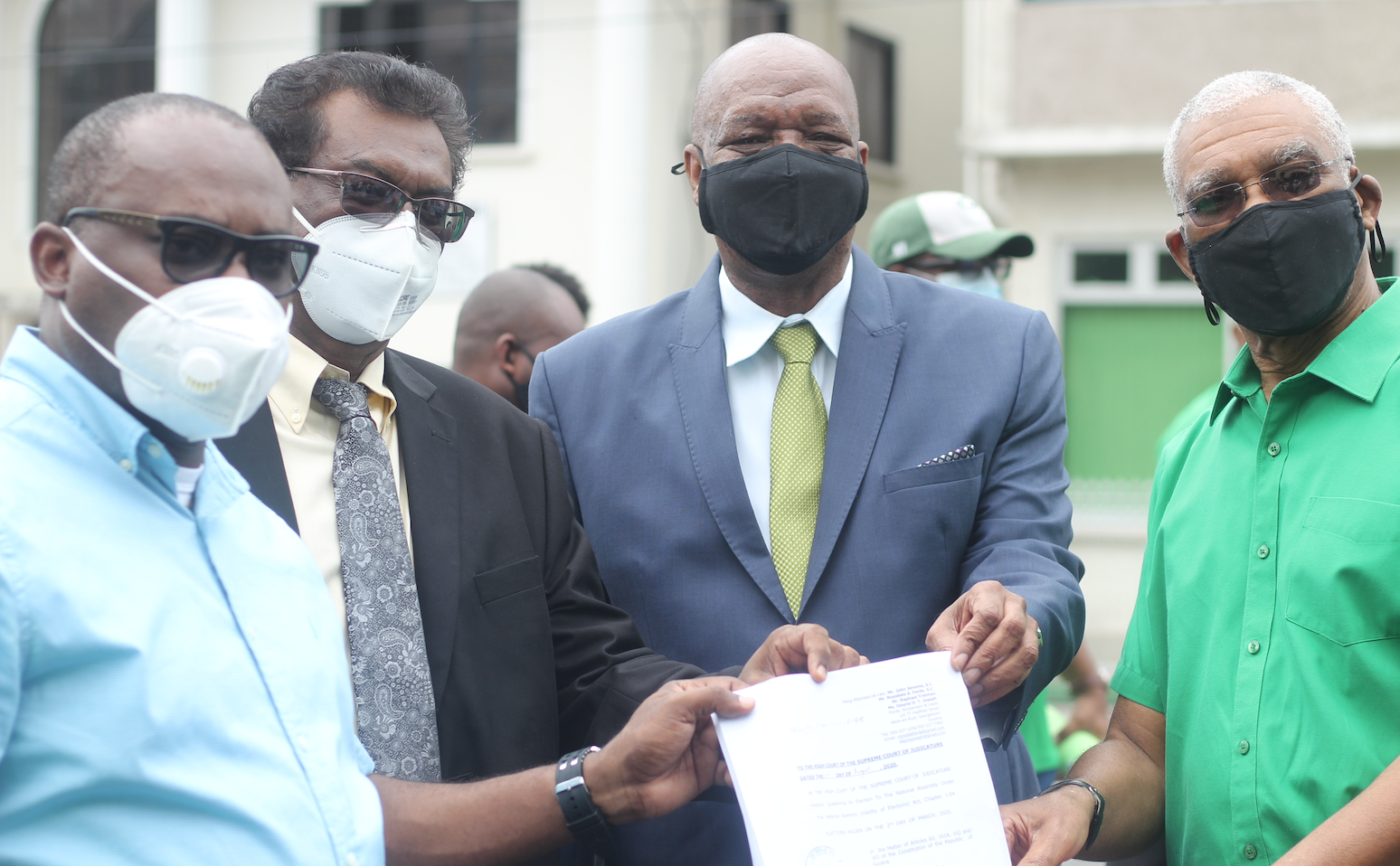 APNU General Secretary and presumptive Leader of the Opposition Joe Harmon explained that the evidence that has been presented in the petition covers many of the issues and concerns that came to light during the national recount of votes.
"The evidence from the recount which found its way into the report of the Chief Election Officer, in all ten electoral districts, in particular District Four on the lower East Coast where you had 49 boxes with over 11,000 ballots stuffed into those boxes without any other statutory document, I don't know what more you need to show that the elections were fraudulent and that was only one incident, there were several others", Mr. Harmon said.
Several lawyers are representing the two applicants in the petitions. With the national recount completed, APNU+AFC officials believe the petition should take less time to be heard and determined since recounts are one of the main features in a petition.
Just last week, the APNU+AFC wrote to the United Nations and several other international agencies about the elections and the outcome.