The opposition APNU+AFC coalition today said it is not in support of President Irfaan Ali's decision to establish a Commission of Inquiry (COI) into the 2020 General and Regional Elections at this time, on the basis that the matter is currently engaging the attention of the Courts.
"The matter is before the court and should be dealt with through the Election Petition," APNU+AFC Member of Parliament, Roysdale Forde said during a press conference today.
Mr. Forde's statement came shortly after the members of the Elections Commission of Inquiry were sworn-in by Chief Magistrate Ann McLennan at the Office of the President.
With immediate effect, the Commission is expected to inquire into certain events related to the 2020 Elections.
However, the Opposition Member of Parliament said in addition to the two Elections Petitions which challenge the validity of the results of the elections and the recount process, there are a number of election related cases before the Magistrates' Court.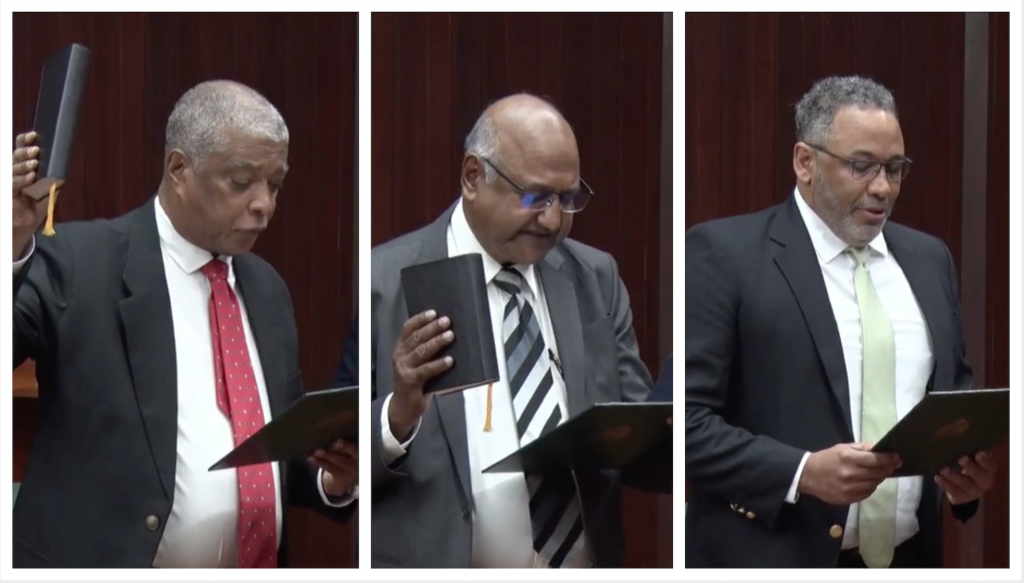 "It is not a question of whether the Executive is possess with the necessary authority to appoint a Commission of Inquiry, the issue which we contend this morning…is in respect of the decision to appoint a Commission of Inquiry where there is an ongoing Election Petition and moreover, there is the issue also that many persons who would have played critical roles in the process of the elections…are currently before the Court, currently charged for a number of criminal offenses that relate to the subject matter of the Commission of Inquiry," Mr Forde reasoned.
Mr. Forde also said the President appears to be in the business of setting up "useless" Commissions when he should be addressing corruption within his Government.
"It is ridiculous for President Ali to be setting up useless commissions while Guyanese are calling for an international team to investigate the alleged bribery and corruption of Second Vice President Jagdeo. The government continues to be complicit in the cover up and is sending the clear signal that it condones and supports corruption once it is committed by the PPP elite, friends, and families," the APNU+AFC MP said.
Forde said the President needs to also convene a Commission of Inquiry to look into the serious corruption allegations that have been levelled against his Vice President.
With the APNU+AFC not supportive of the Commission of Inquiry, it's unclear whether any of its representatives will appear before the Commission to provide evidence or information.