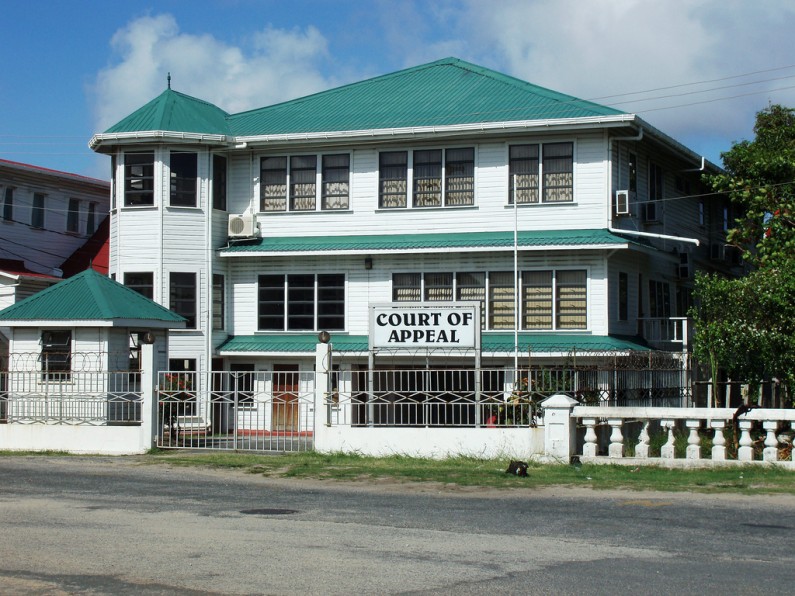 After listening to arguments for over four hours on Saturday, the Judges of the Appeal Court set Monday afternoon for the delivery of their decision in the Eslyn David vs GECOM Election Declaration matter.
David through her Attorneys is seeking an interpretation from the Court of  the words "more votes are cast" in Article 177 (2) (b) of the Constitution of Guyana.
She is also seeking a number of orders related to the credibility of the elections and the issue of valid votes.
David's lead Attorney in the matter, Trinidadian Senior Counsel John Jeremie told the Court that the Elections Commission must establish credibility of the elections because it is in the order for the recount. He said the Chief Elections Officer ought not ignore the evidence that he has put together in his report on the recount, which has clearly pointed to evidence of fraud.
During the Saturday hearing, the main respondent in the matter, the Chairman of the Elections Commission, through her Attorney Kim Kyte maintained that GECOM does not have the power investigate the anomalies uncovered during the vote recount.
Attorney Kyte also challenged the mater being before the Court of Appeal, saying that in her opinion, the High Court via an election petition case would have been the Court to hear the matter. While agreeing that the gazetted order for the recount spoke to the issue of credibility being established, Kyte said in her view it was not for the Appeal Court to look into that matter.
Attorney General Basil Williams who is also a respondent in the matter argued that the Elections Commission in its order for the recount, declared that as part of the order, the recount was being used to establish credibility. His position is that the Elections Commission needs to follow its own gazetted order.
Trinidadian Senior Counsel Douglas Mendez who is representing the People's Progressive Party, raised the issue of jurisdiction of the Court of Appeal to hear the matter. He said the application has been raised prematurely and in the wrong Court.
Mendez said the matter ought to be placed before the High Court in an election petition case after the declaration of the elections.
Justice Dawn Gregory questioned Mendez about the issue the allegations of irregularities being addressed before and dealt with by GECOM before the recount and now that the recount is over, when there are more allegations of irregularities, his position appear to be that those cannot be dealt with now.
The Attorney said the previous matter dealt with the Returning Officer and a breach of the tabulation procedure.
Presentations were also made by the Attorneys representing two groups of the small parties that contested the elections.
The Elections Commission was preparing to deal with the declaration of the results when the Chief Elections Officer was halted from presenting his report to the Commission after the Court action was filed.