During its time in government, the People's Progressive Party racked up millions of dollars in advertising bills at the state-owned National Communications Network and never bothered to pay the bills.
According to a forensic audit which was conducted  by Parmesar Chartered Accountants, the PPP's total bill stretches over $55 million. In some instances, the political party was never billed for the political ads and in other instances, it simply did not make an attempt to pay.
The report found that dating back to 2011 and the elections then when the PPP swamped all of the NCN stations with political ads, some of the ads were listed under Public Service Announcement.
The audit found that the party which was in government at the time, was never billed for $18.2 million in political ads that were aired on the NCN stations for the 2011 elections. Additionally, $12.9 million worth of political ads were placed on the state tv and radio stations under the banner of public service announcements.
During last year's elections, the PPP had placements totaling $21.9 million but it was not billed for $3.7 million of that amount. The party still owes the money.
NCN was also not paid $17.3 million which was owed by the Impressions Advertising company for ads that it also placed for the People's Progressive Party. The Impressions debt was written off by the former CEO of NCN, Molly Hassan, just before last May's general elections.  That move was made without any advice from the company's legal aid.
Following last year's elections, the PPP was billed for the majority of the ads placed on NCN but is still to start making those payments.
While the PPP was in government, NCN came under severe criticism for turning down ads for other political parties while allowing its airwaves to be swamped with ads belonging to the PPP. NCN also carried out live television and radio broadcasts of the PPP rallies and never paid for those services either.
The issue of the hefty bills still owed by the PPP first surfaced just after last year's elections and the party indicated that it would have been making moves to begin payments.
By contrast, the report found that the governing APNU+AFC owed just over $65,000 for political ads that it is still to be invoiced for.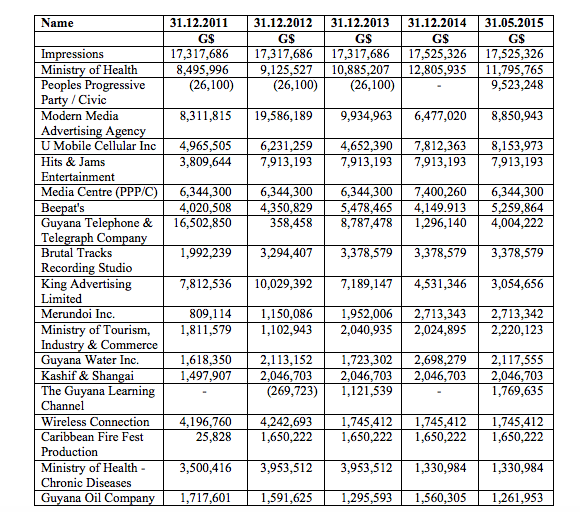 Meanwhile the audit report also found that as of May 2015, NCN was owed a total of $230 million by several companies, organisations, advertising agencies and government agencies.
The Top 20 customers with outstanding bills in the millions of dollars, include the PPP, Impressions Advertising, Ministry of Health, Kashif and Shanghai, Modern Media Advertising, Hits and Jams Entertainment, GTT and U-mobile Guyana, which operates Digicel.