Attorney-at-law and Chairman of the People's National Congress, APNU Member of Parliament Basil Williams was elected as the new Deputy Speaker of the National Assembly on Monday.
Williams takes  up the post from former Member of Parliament Deborah Backer who resigned from the National Assembly last week because of an illness. Mr. Williams was unopposed when he was nominated for the position. He has been a Member of the National Assembly for over 15 years.
And Medical Doctor, Karen Cummings was sworn in as the new Member of Parliament for the APNU, taking up the seat vacated by Attorney Deborah Backer.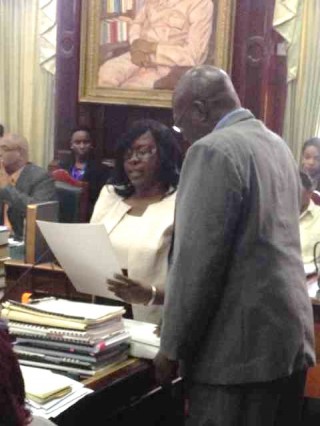 She will be without an official portfolio in the National Assembly initially and has found herself seated in the second row, bumping APNU Member of Parliament Vanessa Kissoon to the back bench.
She is a member of the People's National Congress and is married to Dr. Emmanuel Cummings who served as candidate for the Peoples Progressive Party Civic during the last elections.
.