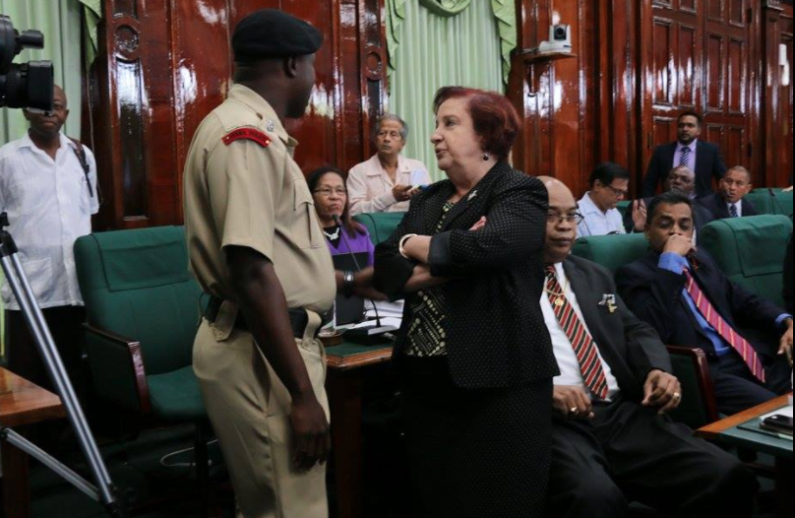 Drama unfolded in the National Assembly just after after 12 noon today when Member of Parliament for the People's Progressive Party, Bishop Juan Edghill, refused to leave the Parliamentary Chamber after being ordered to do so by the Speaker.
"I will not be leaving", Edghill shouted as he took his seat and refused to follow the Speaker's order.
The Speaker's decision to ask the Opposition MP to leave the Chamber came in response to Mr. Edghill refusing several requests to take his seat and allow the Assembly to move on with its work in the Committee of Supplies' examination of the budget estimates.
The issue stemmed from the Speaker sticking to the agreed timeframe for the examination of the budget for the Ministry of the Presidency. It was earlier agreed that two hours would have been dedicated to that examination of the estimates. When the two hours ended, the Speaker allowed additional time but then said it was time to move on.
At that stage, MP Edghill rose to his feet and demanded that more time be provided for the scrutiny of the Ministry of the Presidency's estimates.
The Speaker reminded Edghill and the rest of the House that there was an earlier agreement and no objections to the time specified for the examination of the estimates and the members could therefore not have it both ways.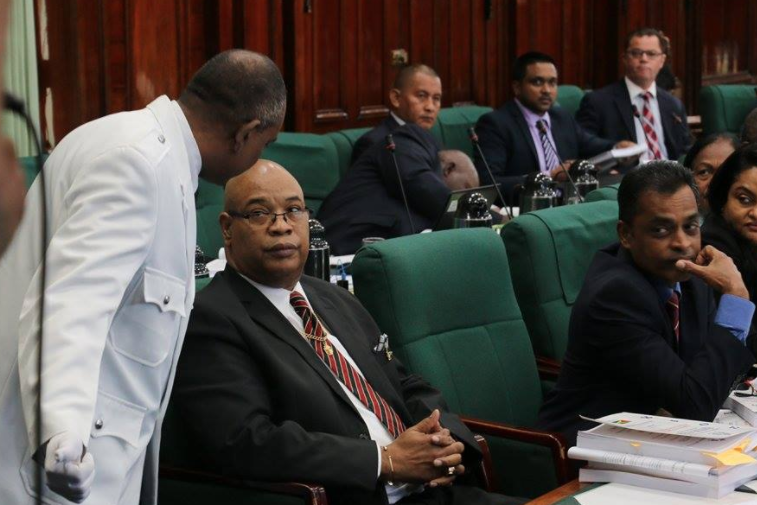 To that, a defiant Edghill kept demanding that he be allowed more time even as he was repeatedly asked to take his seat.
When the Speaker warned him that he was out of order for his behaviour, he fired back that he does not have a problem being out of order.
It was at that stage that Speaker Scotland ordered that he leaves the Chamber and no longer takes part in the rest of the activity.
Edghill refused to leave the Chamber and continued to shout his defiance at the Speaker. At one stage the Speaker jumped to his feet and asked Edghill to leave.  The Bishop continued to refuse and the Sergeant at Arms was instructed to assist Mr. Edghill in leaving.
The MP planted himself in his seat and refused the instruction of the Sergeant at Arms. That forced the Speaker to suspend the sitting "until the Speaker's orders are followed".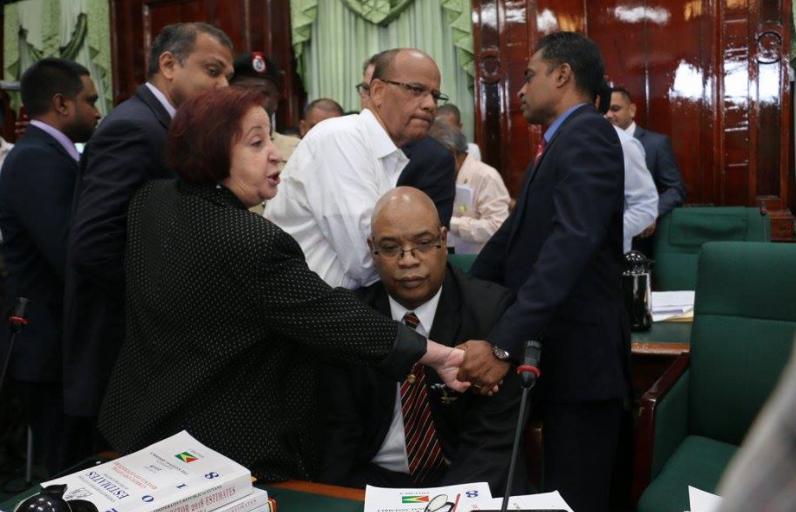 As the Speaker left the bench and the Police were called into the Chamber, PPP Member jumped to their feet and refused to allow the Police access to Edghill. They formed a human circle around their colleague and made it clear that they were not going to allow him to be forced to leave the Chamber.
The situation has resulted in a standoff with the Parliamentary office now seeking legal advice.