Businessman and socialite, Imran Khan, was further remanded to jail today when he appeared before the Chief Magistrate as the attempted murder case against him continued.
During this morning's hearing, Attorney-at-law, Latchmi Rahamat, took over the Prosecution of the matter, telling the Court that she has received the all clear and permission from the Director of Public Prosecutions to serve as the Special Prosecutor in the attempted murder case.
She was hired by the family of the victim, Romario Baljeet.
Ms. Rahamat told the Court that the family of the victim was forced to file a police complaint after relatives of the accused, contacted the victim's family, requesting that the matter be dropped.  The Court also learnt that one of Khan's relatives turned up at the home of the victim's father, demanding that matter no longer continue.
The Police has launched an investigation into the the reports.
Chief Magistrate, Ann McLennan, has further remanded Imran Khan to jail until the 26th November when the matter will continue. He has been on remand since November 1, 2018.
He was charged for the attempted murder of 22-year-old, Romario Baljeet, after he allegedly beat the man and kicked him to the head and face repeatedly outside the Palm Court nightclub, after allegedly lashing him to the face with a bottle.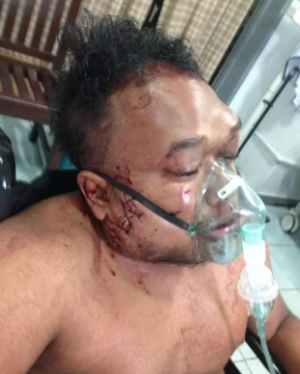 The entire incident was captured on CCTV cameras belonging to Palm Court. The recordings have since been handed over to the Police and will likely make up part of the evidence in the case.
The young victim, who suffers from a disability, has been in and out of the hospital as he nurse multiple injuries.
He was recently rushed into the emergency room after a wound to his face started to bleed uncontrollably. Doctors believe a number of veins were ruptured by the beating.
The young man's family members have made it clear that they want justice in the matter.