A man, who has many times found himself under the microscope of local law enforcement, is in custody for the beating of a disabled man outside the Palm Court night club this past weekend.
Police Commander for A' Division, Asst. Commissioner Marlon Chapman, told News Source this afternoon that Imran Khan turned himself over to Police today in the company of his lawyer, and has been taken into custody.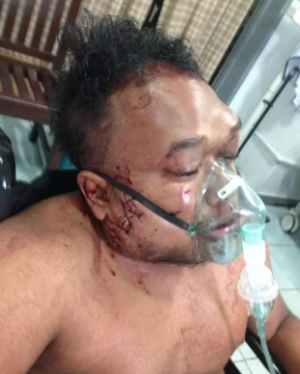 Khan is likely to face several charges for the beating of 21-year-old Romario Baljeet.  The young man was admitted to the hospital on Sunday morning following the attack outside Palm Court.
The youth claimed that he was heading to his car and walked between Khan and some of his friends outside the club, when he was attacked. He said Khan repeatedly lashed him across the face with his gun and when he collapsed, he said he was badly kicked to the face by the same Khan.
The 21-year-old man who reportedly suffers from epilepsy and has other medical conditions, was left with a slash across his face and other injuries.
Last year, the same Imran Khan was held for questioning connected to the attack on a Trinidadian soca singer outside the same Palm Court.  One of his friends was later charged for attacking the singer and hitting him across the head with a bottle.  That case is currently before the Courts.