Businessman Keith King who was deported just over a decade ago from the United States found himself before a Georgetown Magistrate this morning facing cocaine trafficking charges.
The 46-year-old man was refused bail and remanded to prison when he appeared before Magistrate Alain Wilson early on Monday morning charged in connection with the over 700 pounds of cocaine that was found in a lumber shipment back in February of this year.
King who operated a pawn shop in Georgetown for a number of years, pleaded not guilty to the charge. He will make his next court appearance on May 7, 2013.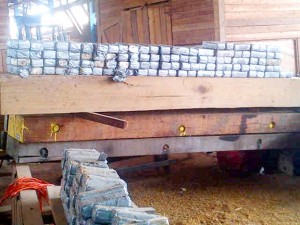 Back in February, the Customs Anti Narcotics Unit and the Drug Enforcement Unit of the Guyana Revenue Authority moved in and seized a container that was being packed with lumber for export. When searches were carried out, the Drug Enforcement agents discovered 700 pounds of cocaine neatly wrapped and stashed in the pieces of lumber.
A widespread investigation began and a number of persons were initially arrested and questioned about the cocaine. Three weeks following the cocaine bust, two persons were charged in connection with the case.
However, they were both granted bail and the Head of the Customs Anti Narcotics Unit, James Singh strongly voiced his disapproval with the court for granting bail for the men especially when they were charged in such a high-profile case involving hundreds of millions of dollars worth of cocaine and the drug trade.
The arrest and laying of charges against Keith King today has brought the number of persons charged in connection with the case to three.
A number of other persons are being probed in connection with the same case.