Twenty-five year old, Maryann Daby, was remanded to jail this morning after being charged for attempted murder, possession of a firearm and possession of ammunition without being the holder of a license for the weapon and ammunition.
The daughter of businessman Paul Daby, appeared before the Principal Magistrate, Judy Latchman and broke down in tears after she was remanded to prison.
The Court was told that early on the morning of Sunday 13th May at GMRSC, Thomas Lands, the young woman had in her possession  a .32 pistol along with six live matching rounds and with the intent to commit murder, she attempted to discharge the firearm at Policeman Christopher Kissoon.
The woman's Attorney Mark Waldron, told the Court that there is no evidence that the woman ever unloaded the firearm since, according to him, no spent shells were discovered at the scene. He also said that there appears to be no other witness to the incident other than the Police rank who filed the complaint and made allegation.
The Attorney also told the Court that the young woman was never placed on any identification parade. He said it is his view that the charges are based on malice.  Waldron made a passionate application for bail, telling the Court that the young woman is a Director and Finance Officer of her family's company.
The Police Prosecutor, however, objected to bail on all of the charges based on the seriousness of the offenses. He told the Court that the Police Officer responded to the area after he heard gunshots and saw the woman discharging shots into the air.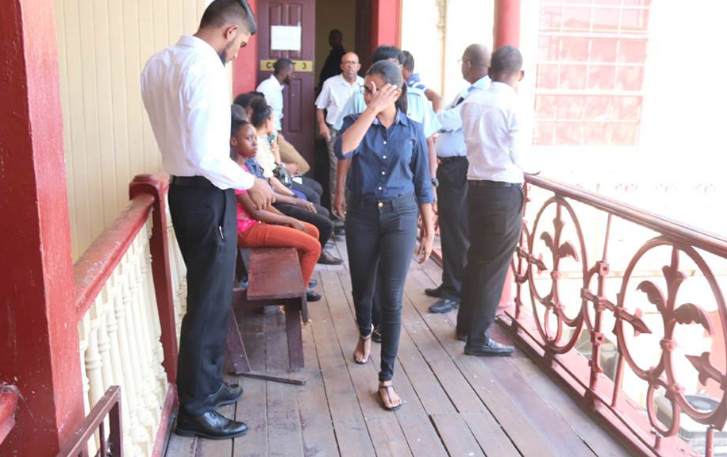 According to the Prosecutor, when the Police officer approached the young woman, she placed the gun to his head  and squeezed the trigger, but the gun was empty. She was later arrested at her D'Aguiar's Park home after speeding away from the scene.
Bail was refused on the fact that a firearm was used and  the offenses were very serious. The young Daby has been remanded to jail until May 23.
Her parents and other relatives packed the Courtroom and appeared in disbelief when bail was denied. The charges were filed against the woman following advice from the Office of the Director of Public Prosecutions.