-by Kurt Campbell-
As Guyana awaits comprehensive data on the survival rate of local women who have tested positive and are receiving treatment for cervical cancer, the Guyana Cancer Institute is reporting that a silver lining exists on the basis that women are being screened at earlier stages.
Another major accomplishment for the Cancer Institute is that a new form of internal radiation, Brachytherapy Procedure, is currently available and is proving to be more effective than treatment that was previously available here.
At a cost of $300,000, women who have screened positive for cervical cancer can access the treatment at the Institute.
January is being observed as Cervical Cancer Month with the Cancer Institute waiving the fees for pap smears and offering free screening to women who are above the reproductive age throughout the month.
Medical Director, Sayan Chakraborty and Outreach Director Dr. Syed Ghazi in their appeal to women across the country, have reminded them that cervical cancer is the second most common cancer in women and affects both the young and the old.
"We are fortunate to be able to provide state of the art radiation therapy here which is not available in other Caribbean countries," Dr. Ghazi explained.
His Colleague, Dr. Chakraborty explained that the same treatment costs far more outside of Guyana and is usually done at a cost of US$5000.
Dr. Ghazi said Cervical Cancer was now at endemic proportions in the Caribbean and Guyana but noted that the Cancer Institute continues to work with the aim of eliminating cervical cancer by 2025.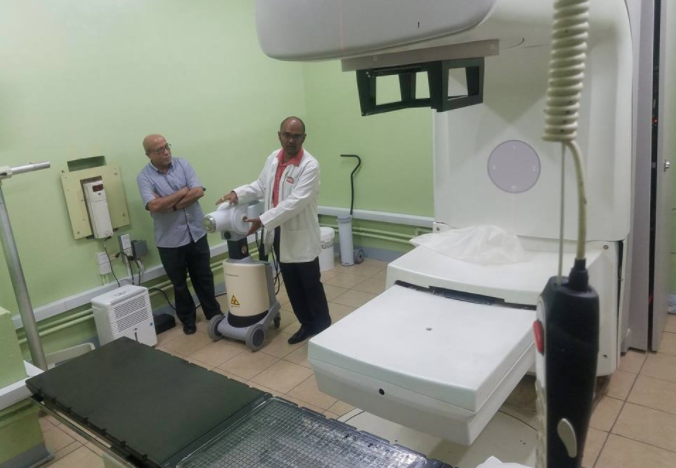 The two doctors are encouraging persons to take full advantage of the free, quick and painless pap smears being offered during this month by the Institute.
"Unfortunately, the problem with cancer doesn't lie with cancer only, it lies with misinformation or ignorance regarding diagnosis and treatment… we have seen that most persons in their advanced stages are seeking treatment," Dr.  Chakraborty said.
He is encouraged by a reduction in persons seeking treatment at late stages since the start of the work of the Institute back in 2014.
Some symptoms that should ring an alarm and cause women to get a pap smear include abnormal discharge and pain or bleeding after sexual intercourse.
The Two doctors also complained that in some cases these symptoms are not taken seriously by general physicians who sometimes can't comprehend and link the symptoms to the illness.
This they hope health authorities and civil society will be able to change through continues awareness of the illness.