-by Ravin Singh- 
THE Caribbean Community (CARICOM) Regional Commission on Marijuana 2018 has recommended in its report the decriminalization of marijuana across member-states.
The report will be presented to Heads-of-Government at the 39th conference of the regional body which will be held in Montego Bay, Jamaica from July 4-6.
At a press conference on Monday, CARICOM Secretary General (SG) Irwin LaRocque revealed that the "Commission encourages, in addition to decriminalization, freeing up marijuana for scientific purposes, for medical use."
Possession and trafficking of marijuana in Guyana is still illegal and carries a minimum sentence of three years imprisonment for trafficking. But those laws have been described as "archaic" by Government Member of Parliament (MP) Michael Carrington, who has long been pushing for decriminalization of the substance.
Just recently, the Alliance for Change (AFC), of which Carrington is a member, renewed its call for the decriminalization of small amounts of the marijuana after a young father was jailed for three years for possession of the drug.
In its report, the CARICOM Commission which comprise professionals in the fields of law, ethics, sociology, psychiatry, medical, and social research, and criminology, argued that a strictly regulated framework for marijuana should be introduced.
"The commission is unanimous in its view that the current classification for cannabis/ marijuana as a 'dangerous drug' with 'no value' or narcotic should be changed to a classification of legal cannabis as a 'controlled substance'," the report stated.
However, the 10-member commission agreed unanimously that prohibition for children and young persons within an appropriate age limit should be maintained, except in the case of medicinal purposes. The commission recommended that persons who are caught with the substance and fall below that age limit should be rehabilitated though programmes as opposed to being imprisoned.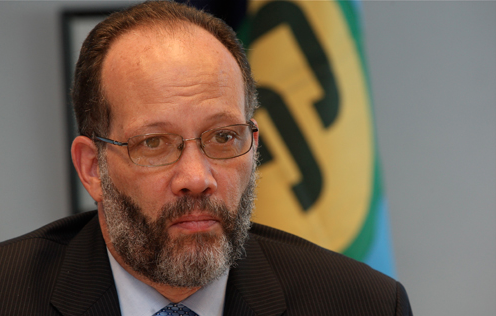 Further, it suggested that drug-driving laws and mechanisms should be implemented, akin to drunk-driving, to prevent persons from driving under the influence.
In mid-2015, Jamaican decriminalized small amounts of marijuana for personal use. Under the new law, possession of up to 2 ounces (or 56 grams) of marijuana is a petty offence punishable by a maximum fine of about $5. The law also allows the cultivation of up to five marijuana plants per household.
Within that context of recreational use however, Ambassador LaRocque informed reporters that international law would preclude trade of the substance. But for medicinal purposes, he posited that trade could be allowed.