Chief Justice Ian Chang on Friday delivered a written ruling which states that the government acted illegally when it spent money that was disapproved in the National Assembly during the consideration of the 2014 national budget.
He was ruling on an application made by Opposition Leader David Granger, asking him to grant a Conservatory Order to stop all unauthorized spending by the administration for as long as the Parliament remains non – functional.
Attorney and Deputy Speaker Basil Williams told the media shortly after the ruling was delivered that the CJ has found the spending by the administration to be unconstitutional.
He said the CJ did not grant a Conservatory Order since it is a new year and the constitution already made provisions for spending of the first four months of the year. He did point out that this spending was limited.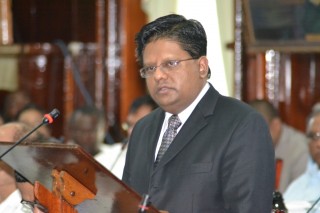 The opposition, using its majority,  had refused to approve some $37 billion during the 2014 budget considerations but a few months later the Finance Minister returned to the Assembly with a Statement of Excess totaling $4.5 billion.
It is not clear at this point how much of the $37 billion has been spent.
"It is a good decision for us because it tells you that the Finance Minister cannot override a decision of the Parliament when it doesn't approve expenditure," Williams said.
Shadow Finance Minister Carl Greenidge explained that what needs to happen in the future is that the Minister will have to get approval before spending disapproved funds as opposed to spending and later seeking a retroactive approval.
The government throughout the challenge had always maintained that it acted within the confines of the constitution.
Attorney General Anil Nandlall said the ruling was a long one but his brief assessment is that there was clearly not a case made out for a Conservatory Order to be granted.
He admitted that the ruling cites the administration violation of the constitution when it spent the disapproved funds.
"The government is not in doubt with respect to the limitations the constitution imposes in its ability to spend during a period where there is no Appropriation Act… and that is why I was saying that this case was unnecessary," he said.
The CJ ruling has in effect put to rest the arguments surrounding the legality of spending to this effect and has set the precedence for future spending under similar circumstances.
Filed: 13th February, 2015