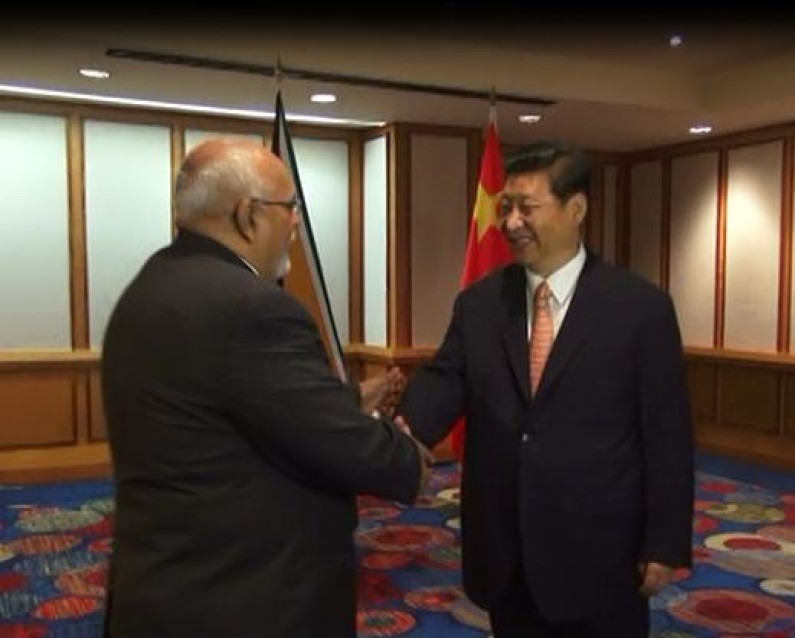 Guyana will soon be looking at how it will tap into a US$1.5B grant announced by the Chinese Government, during a visit of that country's President Xi Jinping to Port of Spain, Trinidad.
This was announced by President Donald Ramotar, shortly after some Caribbean Community (CARICOM) Heads met with the Chinese President at the Hilton Hotel in Port of Spain. CARICOM states that share diplomatic relations with Taiwan were not part of the meeting.
"The Chinese Government has committed to give the region much more assistance, US$1.5B to help with some infrastructural work and US$1.5B in concessionary loans for the region, so I think China has demonstrated once again, its friendship to our region, and to help us to try to improve the quality of life for the people of our countries," President Ramotar said in an invited comment.
Guyana will be benefiting from this, and according to President Ramotar, efforts will be made shortly to identify how Guyana will tap into this facility.
"That has just been announced, so we will have to work out what are the critical areas we will want to work on," President Ramotar said.
Two years ago, the Chinese Government pledged US$1B in preferential loans to support the local economic development of the Caribbean region when China's Vice Premier Wang Qishan met CARICOM leaders in Trinidad and Tobago at a Business Conference of the third China-Caribbean Economic and Trade Cooperation Forum.
Priority areas have been in the fields of finance and investment, capacity building, environmental protection, new energy, culture, education, health, trade, tourism as well as agriculture and fishery.  Wang had said the Chinese Government had intended to deepen China-Caribbean cooperation.
Focus was also on the training for no less than 2,500 Caribbean nationals and 30 at the post-graduate level to study in China, an early warning monitoring network for earthquakes and tsunamis.
During that forum Guyana and China inked a $30 million grant agreement that would see funding for a number of priority projects in Guyana.
Sunday's meeting between Regional leaders and the Chinese President was attended by Presidents of Trinidad and Tobago Anthony Carmona, and   Suriname, Desi Bouterse, and the Prime Ministers of Barbados, Trinidad and Tobago, Jamaica, Dominica, Grenada, and other representatives of the Caribbean region.
President Ramotar was accompanied by Finance Minister Dr Ashni Singh and Foreign Affairs Minister Carolyn Rodrigues-Birkett. (GINA)
FILED: 2nd June, 2013