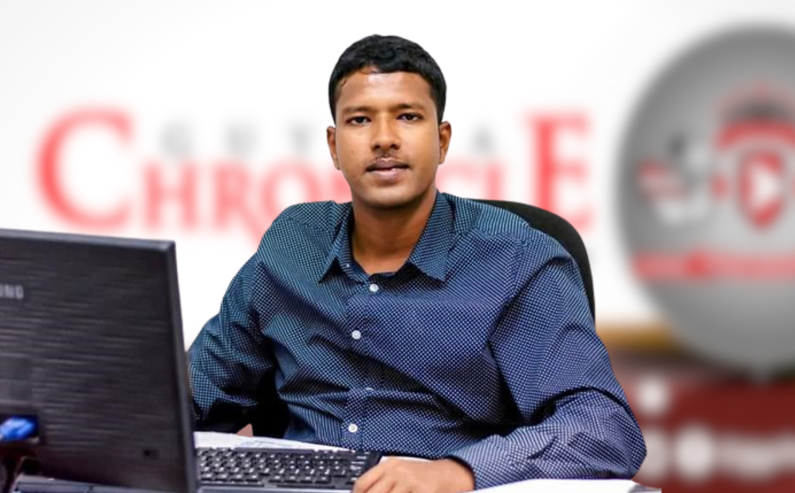 Award winning journalist Tajeram Mohabir has resigned as the Editor-in-Chief of the state-owned Guyana Chronicle after a rocky two-year stint.
Mohabir's resignation came at the end of a six-week vacation leave and in the middle of a letter writing exchange in the pages of the Kaieteur Newspaper by staffers of the Guyana Chronicle.
There are reports that Mohabir became incensed this past weekend after the Guyana Chronicle ran two front page apologies for defamatory and libelous stories that were carried in the newspaper against two politicians under two different Editors-In-Chief and two different governments.
The apologies were directed to Leader of the Liberty and Justice Party Lenox Shuman over a 2020 story under former Editor-in-Chief Nigel Williams, and Member of Parliament for the APNU+AFC Jermaine Figueira over a 2021 story during Mohabir's tenure at Editor in Chief.
On Monday, a letter appeared in the Kaieteur Newspaper condemning the move as "quackery". The letter writer names were withheld, but it was carried as a letter from Concerned Staffers of the Chronicle.
By Thursday, the Kaieteur News carried another letter, responding to the Monday letter with staff members of the Chronicle distancing themselves from the letter and signing their names to it.

A few months ago, reports surfaced that tension was high at the Guyana Chronicle as Mohabir complained to close friends of there being attempts by other staffers to have him removed from the position. There were a number of complaints that were sent to the Chronicle Board from various staffers and Mohabir himself about the work environment at the state newspaper.
Complaints were also directed to the President and the Minister with responsibility for the state media.
Mohabir had reportedly complained of being undermined by a group of staffers and other media workers associated with the Chronicle. News Source understands that some staff members complained about Mohabir's management style and his competence in the position.
In a statement to News Source this evening, Mr. Mohabir said his resignation will take effect from the 13th December. He said he decided to go ahead with his decision even after the Board asked him to reconsider the resignation.
"Overtime, long hrs of work have negatively affected my health and kept me away from my family. I now look forward to working a job with stable hrs, where I could put my MBA skills into practice", he told News Source.
A senior Government official late this afternoon indicated that no replacement has been identified as yet.