The Guyana Revenue Authority has announced that it has released the Cypriot vessel, M/V DeltaDiep which was detained following the discovery of 185 packages of cocaine in a 40ft flat rack container on January 6, 2015. The total weight of the cocaine found on board the vessel was 420 pounds which carries a street value of $2.1 Billion.
The GRA said the vessel was released and the crew allowed to leave Guyana with it after the fine of G$12M (US$60,000) was paid to the Guyana Revenue Authority (GRA).
"The fine was levied by the Commissioner-General of the GRA, Mr. Khurshid Sattaur, pursuant to the provisions made under Section 224 – 226 of the Customs Act Chapter 82:01 in lieu of the forfeiture which took effect on January 9, by way of a Notice of Seizure on account of the narcotics found on board the vessel", the GRA statement said.
 The statement did  not say how the $12 Million fine was arrived at but said there were discussions between the Attorneys representing the company which owns the vessel and fines imposed on other ships that were busted with cocaine was also taken into consideration.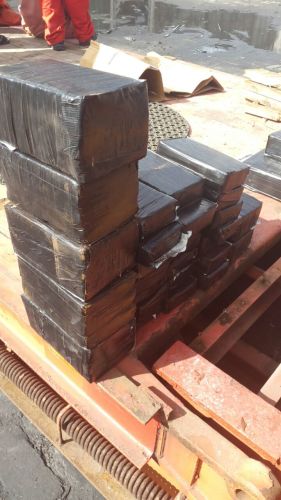 The  GRA statement said that the "MV Deltadiep was represented by the law firm of Cameron & Shepherd who represented the Owners and Insurers of the vessel. The fine was negotiated with Cameron & Shepherd during one week of discussions and was finally resolved and based on the precedent of the MV CFS Palamedes. This vessel was discovered in 2007 with 300 kg of cocaine. It was fined $15 million.  The Director of Public Prosecutions recommended no prosecutions."
The ship had just arrived in Guyana to uplift a bauxite shipment in Linden when the bust was made. Local Authorities received a tip from the United Nations agency which tracks crime and drug trafficking.
Before coming to Guyana, the vessel was docked in neighbouring Suriname. It was on its way to Spain.
 The Customs Anti Narcotics Unit carried out several interviews with the Captain and crew before allowing them to leave. CANU is convinced that they may have been unaware of the contents of the container that was loaded onto the ship in Suriname.
International drug enforcement agencies have all been informed about the bust and the investigations are ongoing.
According to the GRA, "the January 6 drug bust mirrors several successful efforts in previous years to stop the smuggling of illegal drugs such as the more than 3,000 kilos (6940 pounds) of cocaine found hidden on the St. Vincent-registered ship M.V. Danielsen in October 1998; the largest haul in Guyana's history."
Filed: 25th January 2015