Convicted drug lord and recaptured fugitive Barry Dataram, was found in Suriname with a Guyana Passport that was issued to him in the name of David Persaud. The passport bears the image of Dataram but with the David Persaud name.
The passport was issued on April 15, 2013 and appeared to have been issued in Georgetown. It bears the passport number R0376916 and would have expired in 2018.
Just recently, the General Secretary of the opposition People's Progressive Party and former Home Affairs Minister, Clement Rohee, broadsided the government over its drug fighting effort after Dataram was able to escape from Guyana while his drug possession case neared the end.
But it was Rohee who was in charge of the Home Affairs Ministry in 2013 when Dataram was issued the passport with the false name.  The Passport Office came under the Home Affairs Ministry's portfolio.
It is suspected that Dataram may have used the passport with the false name to travel to Suriname via the backtrack route three weeks ago and was attempting to use a foreign passport to leave Suriname.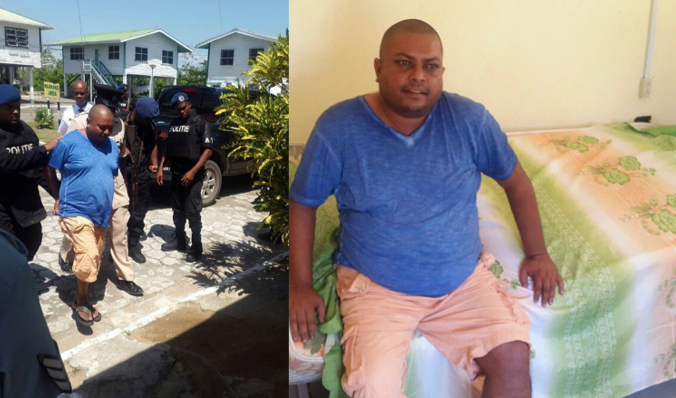 He was arrested by Surinamese Police on Friday along with his wife. The two were found hiding out in a house in the neighbouring country.
They were both brought back to Guyana this morning by Surinamese Police and handed over to local Law Enforcement.
The two went on the run just as their cocaine possession trial was nearing an end. They had been charged along with two others, after over 225 pounds of cocaine was found in Dataram's Diamond, East Bank Demerara house. They were both on $4 million bail each when they decided to bolt from Guyana.
In their absence, Dataram was found guilty and sentenced to five years in jail and fined $164 Million while Boodnarine was found not guilty.
Two other men who were charged along with the couple, were also found not guilty. The Customs Anti Narcotics Unit has already appealed the not guilty verdicts.