President and Commander In Chief of the Armed Forces, retired Brigadier David Granger has revealed he summoned an emergency meeting of the Defence Board following the decree by Venezuelan President Nicolas Maduro, claiming more of Guyana's territory.
The President would not offer details but he said a follow up meeting was also held.
In an interview following the opening of the 11th Parliament on Wednesday, President Granger dismissed the Maduro decree as "absurd" declaring that he has never seen anything like it.
"I have never seen a map like that. It is really beyond belief".
According to the President "it is quite clear that the lines which the Venezuelan decree drew in our sea space are erroneous and are not acceptable", he said.
President Granger said the decree has no basis in international law and therefore the ExxonMobil oil company and other companies which have been granted licenses to explore in Guyana's waters would have nothing to fear.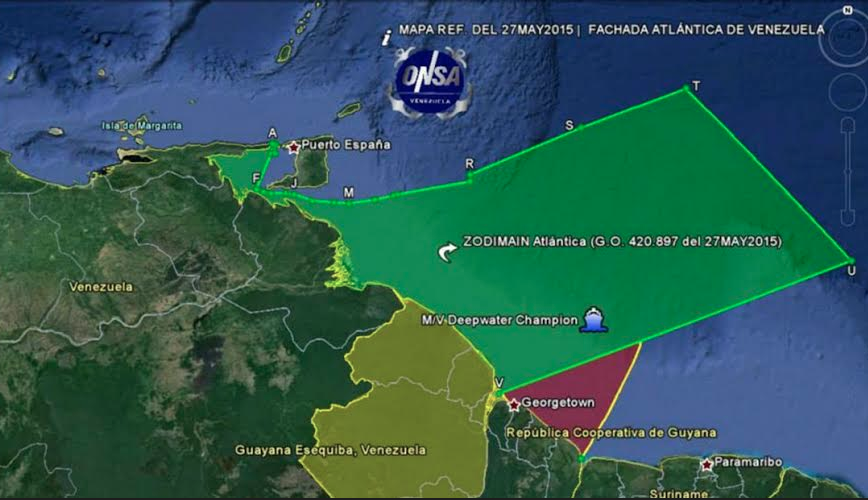 Guyana, the President said, has always believed that the best line of defence is diplomacy and that is the area it intends to focus. He said military defence is only one lone of defence.
The Guyana government has already alerted CARICOM, The Commonwealth and other international organisations about the latest move by Venezuela. The government has also made known its strong objections to the Venezuelan authorities who have said Guyana is creating an "artificial crisis".
During the opening of the 11th Parliament, Foreign Minister Carl Greenidge presented the Government of Guyana position on the issue.
 He said the decree by Maduro cannot be seen as an act of sovereignty since it flies in the face of international law and negates commitments previously made by Venezuela to several international organisations.
The Foreign Minister said the action by Venezuela is illegal and is against all forms of conventions that governs cooperation between states.
According to Greenidge, Guyana has made repeated efforts in the past to get Venezuela to sit and discuss issues but those efforts have failed. He announced that steps are being taken to ensure that Guyana's territorial integrity remains unchallenged.
The Foreign Minister also added that the move by Maduro can only be described as act territorial aggrandizement and threatens regional and international peace.