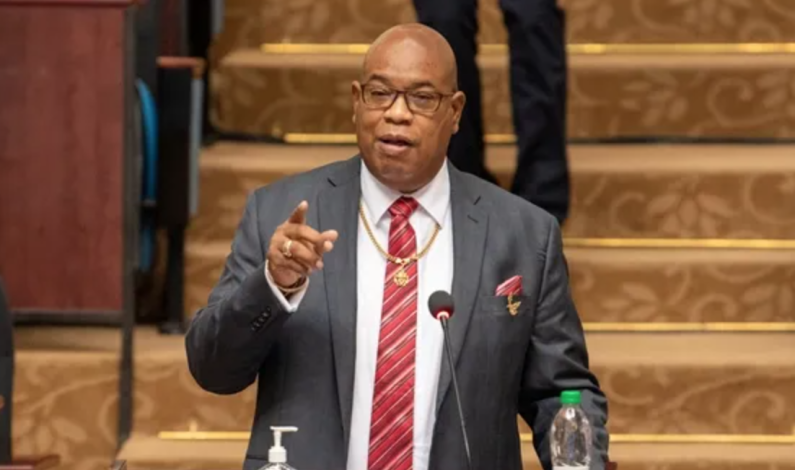 In defending the Government's 2022 national budget, Minister of Public Works, Bishop Juan Edghill has declared that through the measures and allocations in the budget, hope is being returned to the citizens of Guyana.
In his 38-minute presentation, Mr. Edghill talked up the government's plans to develop several critical sectors but noted that the budget is also catering to everyone.
He said, "this budget restores hope to Guyanese people and will bring them out of poverty".
The Minister made reference to the cash grant for school children and the increases in the old-age pension and public assistance as some of the measures that will contribute to the restoration of hope in the country.
In his passionate speech which elicited shouts of "amen" and "preach", Bishop Edghill also indicated that the Government is moving to build the middle class in the country and the 2022 budget will contribute to those efforts.
"You cannot develop a country if you are not growing the middle class. This budget with the measures that have been put in place is designed to grow the middle class", Edghill told the National Assembly.
He said evidence of the growth of the middle class could be found in the number of vehicles being registered in the country for personal use. The Minister made reference to the Guyana Revenue Authority's announcement that it will begin the registration of vehicles under the new PAC registration series, having exhausted more than 9000 registrations under the previous series in the past seven months.
"The dreams of our young people and public servants are no longer in poverty with bicycles, they are buying their own cars and owning their own homes", he said.
The Ministry of Public Works has been allocated more than $70 Billion in the budget to beef up the government's infrastructure plan.
The big allocation has received some push back from the Opposition, which has argued that while investment in infrastructure is good, there should be more investment in the people who are being saddled with low wages and a growing cost of living.
The Public Works Minister said the infrastructural development is needed in Guyana especially at this time when the country is gaining more attention on the international stage as an oil producer and more investors are eyeing the country.
Edghill said the government will continue to roll out its development plan across the country with more roads and bridges being built to connect more places.