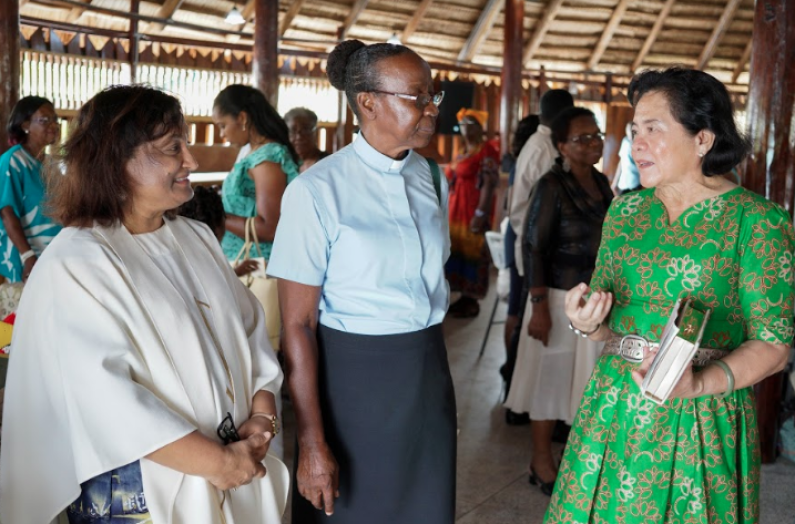 First Lady, Mrs. Sandra Granger, on Saturday encouraged women to stand united in their faith and to strengthen and support each other through times of adversity, adding that throughout history women have played an important role in the creation of more equal societies.
The First Lady delivered these remarks at the Fifth Annual Women's Convention of the Presbyterian Church in Guyana, which was held at the Umana Yana in Kingston, Georgetown. Fifty women from Presbyterian parishes across the country assembled at the venue for the Convention and to observe 200 years of Presbyterianism in Guyana. The Convention is being held under the theme "Called to witness by the power of the Holy Spirit".
The First Lady said that from time immemorial women have had to fight inequality in order to establish themselves as equal members in society. "Thinking back on the history of the human race, I doubt there was a time when the lives of women have proceeded without outfalls and potholes. The times in which we now live are particularly challenging for women, more so for women of faith," she said. Despite this, she added that, [women] "have questioned and sometimes overturned the perception and the status of women, their role in society and their relationship with their families, communities and countries… We can stand up for and defend our position on the important matters that affect our daily lives and the lives of those we hold dear."
In her address, Reverend Patricia Shreerattan-Bisnauth expressed similar sentiments. She encouraged the women to embrace one of the hallmarks of the Presbyterian church in Guyana, which is its service to those who are suffering. "How can our faith be separate from who we are called to be? … Friends, we are called to be witnesses. We cannot turn a blind eye to suffering… It is through empowerment from the Holy Spirit that we can embrace the diversities… among ourselves," she said.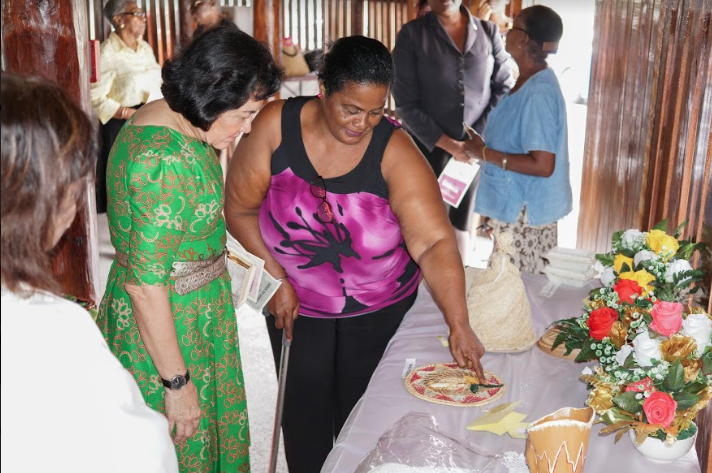 Meanwhile, Elder Cheryl Sampson of St. Luke's Parish, said that she hoped that the event would foster greater unity in the church and inspire greater works of service. "This activity, today, will enrich us to be more loving together, today and in Christ," she said.
At the close of the event, Elder Donnette Ritchie presented tokens of appreciation to the First Lady and to Reverend Shreerattan-Bisnauth. The programme also featured two steelpan renditions from Ms. Oceana O'Dean and a solo performance by Ms. Janessa Harris. There was also an exhibition of craft and value-added products, made by the parishioners.
The event was moderated by Reverend Maureen Massiah, who has responsibility for Saint Andrew's Kirk, the St. Thomas and St. Stephens parishes in Georgetown. Parishioners from sanctuaries from Essequibo Islands-West Demerara (Region Three), Demerara-Mahaica (Region Four) and East Berbice-Corentyne (Region Six) also attended the event. These included Reverend Claudia Johnson and brethren from the St. Saviours Presbyterian Church of Auchlyne, Corentyne; Reverend Cicely Crawford and brethren from the Edinburgh parish in East Bank Berbice, Reverend Charlotte Halley and brethren from St. Peter's Parish in Mahaicony, among others.