First Lady, Mrs. Sandra Granger called on the charitable organisation, The Guyana Foundation, and other non-governmental organisations (NGOs) to play a greater role in addressing the scourge of suicide, noting the need for all sectors in society to get involved in arresting the root causes of the issue. The First Lady made these comments when she was inducted as patron of the Foundation, ON Friday evening.
In her address at the installation ceremony, held in the Savannah Suite of the Pegasus Hotel, Mrs. Granger said, "In the context of mental health… it is vitally important that our country addresses urgently, effectively, and in a coherent manner, the alarmingly high incidence of suicide particularly among our youths."
Pointing to the fact that Guyana, with its comparatively small population, has an alarmingly high rate of suicide, Mrs. Granger said the nation cannot afford to lose its human capital to suicide and efforts must be made forthwith to find the causes and provide professional help.
Welcoming the Foundation's attempts to help curb this epidemic, to date, Mrs. Granger also noted that the group has already signalled its wiliness to participate in a national conversation on suicide prevention and to offer its resources. She praised the Foundation's work with at-risk groups.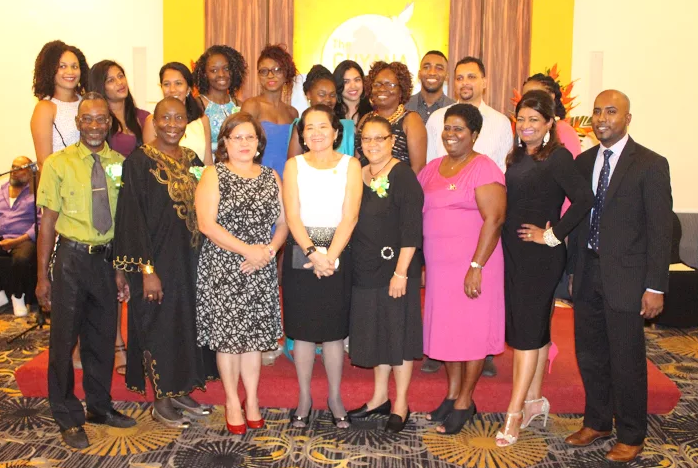 "When we educate our children, our women, our citizens with special needs, our seniors, we help vulnerable sectors of our population not only to be positive about themselves; but to recognise their intrinsic value as [individuals and], as members of our society [and reinforce] the belief that they can contribute," Mrs. Granger said.
The First Lady said she is pleased to be associated with such a noble organisation. She said it was particularly commendable that The Guyana Foundation has continued to have an expansive reach and offers programmes in communities beyond Georgetown and the Coastland, as it had been doing since its establishment in 2013.
"Recognising that the Guyanese people and their diverse cultures are our greatest wealth, the programme of The Guyana Foundation has focused on the most vulnerable sectors of our population" Mrs. Granger said.
Vulnerable groups, including those that are poverty-stricken, women and youths are direct beneficiaries of Foundation projects, aimed at improving mental health, and empowerment through literacy programmes and emotional support through community renewal engagements.
Speaking on the NGO's plan to retake communities and build a stronger nation, the First Lady said they should first bear in mind that an educated population is not only a vital force for development, but provides a sound foundation on which a stable society can be built. Further, she said, "An educated population is a tolerant population. It reaches out to help those less fortunate among us. It seeks ways to feed the children who cannot study or learn because their bellies are empty… It does not point an admonitory finger at adolescent mothers, who may have been victims of trafficking or rape or incest," the First Lady said.
 Last October, Following a meeting between the First Lady and Founder of the Guyana Foundation, Mrs. Supriya Singh-Bodden, Mrs. Granger had expressed that there are significant areas of synergy between her work programme and the work of the Foundation.
The Foundation is a charitable trust that has as its mandate to contribute meaningfully to the rebuilding of Guyana. Mrs. Singh-Bodden, who adorned the First Lady with a pin to signify her induction as patron, thanked her for accepting the invitation, even as she pledged to continue the Foundation's work. (MOTP)
Mrs. Singh-Bodden further noted that from its inception the Foundation had attracted individuals; both locally and from across the world, who have stepped forward to share ideas, develop projects, and raise funds, to assist vulnerable populations. The Foundation's work is propelled by Mrs. Singh-Bodden's conviction that great change can be made by people who are encouraged and supported, as such, it has conducted large and small-scale projects countrywide in an effort to restore hope and purpose, rebuild lives, and create a better future for all Guyanese.