First Lady, Mrs. Sandra Granger, is encouraging more persons to speak out against all forms of violence, specifically domestic violence.
The First Lady made the call last evening as she delivered the feature address at the International Women's Day Concert and exposition, which was hosted by the Ministry of Social Protection and the Canadian High Commission.
First Lady Sandra Granger told the gathering that as there is a balance for better, there is a need for more speaking up and it must be done at all levels including in families.
"Let us as we "Balance for Better" ensure that we speak up and speak out against violence of any kind, not just for one day but every single day and wherever and whenever it occurs. This must happen in our families, our communities, our Regions and at every level across the nation," she said.
According to Mrs. Granger "if women were equal partners in the home, the statistics on domestic violence in Guyana would not demonstrate that women are disproportionately the victims of such violence."
First Lady reminded that Guyana celebrates "the implementation of policies which ensure that health services are available to adolescents and out of school youth and that teenage mothers can receive counselling, services and advice on sexual and reproductive health."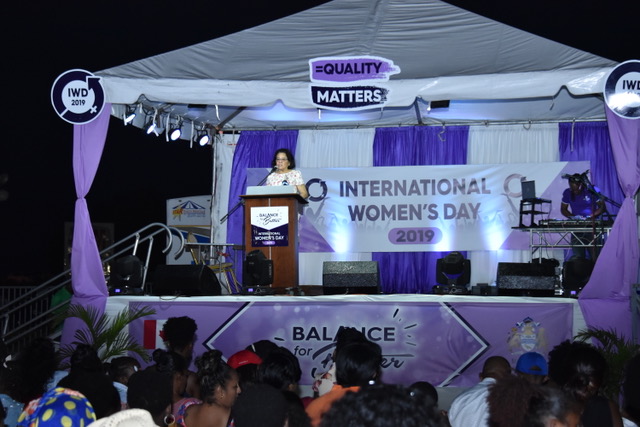 Meanwhile, Canadian High Commissioner to Guyana, Lilian Chatterjee, said the equality of women and men is the cornerstone of everything done by the Canadian Government. She hailed Guyana's strides towards achieving gender parity.
"Canada's foreign policy puts women and men at the heart of its efforts and we're so pleased to work towards a more balanced world with partners like Guyana. Guyana has a tradition of being a leader in the Region when it comes to gender equality and women's rights. The principle of equality and non-discrimination is enshrined in Guyana's Constitution and throughout the years, Guyana has been at the forefront of the Region in passing progressive legislation that safeguards women's rights," Ms. Chatterjee said.
The event featured singer Naila Blackman and several local acts and also had an exhibition by a number of non governmental organisations. (DPI)