First Lady, Mrs. Sandra Granger, has issued a call for all of Guyana to stand up against gender based violence.
The call was made on Saturday as she attended the closing of 16 Days of Activism against Gender Based Violence (GBV), hosted by the Delegation of the European Union (EU) in Guyana.
Delivering an address to the attendees, the First Lady said that the "adherence to human rights begins with education and the development of mutual respect."
Mrs. Granger, who is an advocate for vulnerable members of society and for women's empowerment, told the audience that women and girls continue to be victims of physical and psychological violence in society and that early education on GBV will create wider knowledge and better understanding of the irreversible damage caused by this type of abuse.  She also called on Guyanese to speak out when they are witness to this type of violence.
"We must speak out when onlookers express amusement when a woman or girl is being beaten by a partner…   We must make our voices heard when anyone is being ridiculed and demeaned.  We must demand that out laws be enforced when our girls are trafficked and treated as commodities in the most vulgar way," Mrs. Granger said.
Ambassador of the Delegation of the EU to Guyana, Mr. Jernej Videtic, in his remarks, said that though inequality and violation of human rights continue to pose a challenge across the world, it is important that society defends the rights of people. "This year the European Union joins the United Nations in calling upon people to stand up for someone's rights… That is the theme for this year's Human Rights Day; 'Stand up for someone's rights'… Each of us has an individual responsibility to stand up for his rights," he said.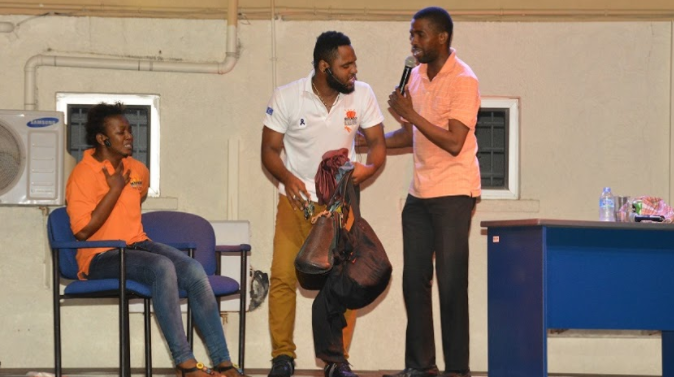 Mr. Videtic also said that the EU will continue to play a pivotal role in the promotion of a rules based global order with respect for human rights.  "The EU works hard on improving human rights in its member states, countries and EU delegations all around the world are working tirelessly to defend human rights in their host countries.  The EU remains a vocal advocate for human rights in multilateral fora and lends its full support to the UN human rights system, which is fundamental to protecting universal human rights and monitoring compliance," Mr. Videtic said.
Meanwhile, Manager of the Sexual Offences and Domestic Violence Policy Unit at the Ministry of Social Protection, Ms. Akeelo Doris said that the Ministry continues to offer counselling services to victims of any form of violence and that the Ministry has recently established a Sexual Offences and Domestic Violence Policy Unit on October, 2016 aimed at tackling GBV.