Conservationist and Guyanese wildlife expert and pioneer, Diane McTurk has died. She passed away on Saturday at the age of 84.
In a statement from the Karanambu Lodge, which she founded, the company said she passed away peacefully after a brief period of illness.
Ms. McTurk made the North Rupununi her home for decades and became best known worldwide for her efforts to protect the Giant Otter.  She lived among them and cared for them.
President David Granger has offered sympathy to the family and friends of the conservationist and reflected that "Ms. McTurk, who was a pioneer for 'green' development and eco-tourism, converted her family's former working cattle ranch and balata collection station—established in 1927 by her father, Tiny McTurk—into an eco-tourism destination known as The Karanambu Lodge in the mid-1980s."
 The statement said since then she has worked tirelessly to promote sustainable development, rehabilitating injured river otters and returning them to the wild.
"All Guyanese can be inspired by her commitment to the conservation of the Rupununi savannah and wetlands ecosystem, even as the country moves towards the development of a 'green' state", the President noted.
 He said Guyana needs more champions of the environment like Ms. McTurk, who can advance the principles of the sustainable use of the environment and the protection of our bio-diversity.
May her legacy be the responsible use of our natural resources through wildlife and habitat conservation, research, and education in partnership with international agencies and local communities.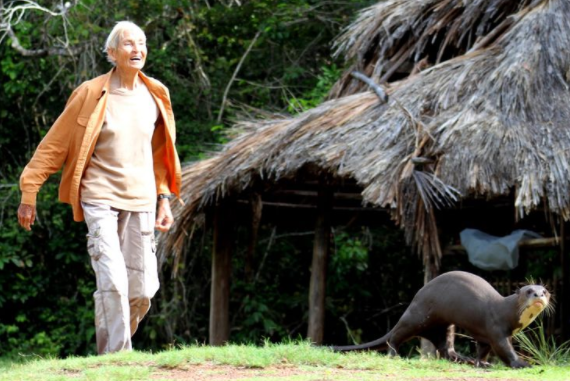 The Karanambu Lodge's website describes Diane McTurk as the visionary behind both the Karanambu Trust and the Karanambu Lodge.
It said the North Rupununi was also her home.
She was born at Karanambu soon after her pioneer father, Tiny McTurk, established a cattle ranch there. Her father was also a naturalist and Diane learned to appreciate the region's extraordinary flora and fauna at an early age. After attending the Wychwood School in Oxford, England, she moved to London to work in the hospitality business for the Savoy Group.
In 1966, she returned to Guyana to celebrate the country's independence and subsequently became the Press Officer for The Guyana Sugar Producers Association.
She moved back England briefly and worked in corporate public relations before returning to her Rupununi roots in 1976.
"Like all the cattle ranches in the area at the time, Karanambu had suffered from a series of misfortunes: epidemics of diseases had decimated the herds, and there were difficulties protecting the cattle from rustlers. As a result, Diane looked for alternatives to make a living. Karanambu was well known for its wildlife and spectacular fishing, and had always been a welcome rest stop for unexpected visitors."
In 1983, she opened her home to eco-tourists and also offered refuge to injured or orphaned wildlife. Sadly, the animal that appeared most often was one of the most endangered: the Giant Otter.