Well-known Guyanese Educator and former Head of Unesco in Guyana, Ms. Carmen Enid Peterkin Jarvis, has died.
Her family announced this morning that she passed away early last evening in Atlanta, Georgia.
"She passed peacefully in her sleep. My mother was a phenomenal woman – a tower of love and strength to her immediate and extended family and a shining example of godly womanhood. She shared herself and her God-given gifts freely with others and with her community and always exhorted others to aim for excellence in everything they undertook", her daughters said.
The family statement reminds that Ms. Jarvis has left behind an "inimitable legacy of achievement in many areas, including education, international development, Girl Guiding, civic and charitable involvement and two books".
Just last October, Ms. Jarvis returned to Guyana and launched her autobiography.  She did a similar launching in New York.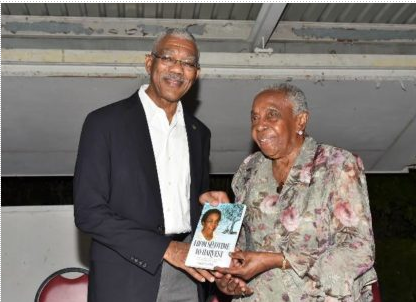 Her daughter, Jennifer Jarvis said it will be hard to imagine what life will be like "without having my Mum to speak to almost on a daily basis, because she was lucid until the end; but she was ready to go. Hers was a life well-lived and even while we mourn, we celebrate this fact and the substantial legacy she has left. May the angels carry her safely on their wings and may God receive his faithful servant with open arms."
During the launching of her autobiography last year, President Granger thanked her for her service to Guyana over the years and said "Ms. Jarvis is what would be described in modern day parlance as an iconic Guyanese. I think when we consider some of the reverses that we have faced we are very grateful for that generation of persons, who were born in the 1920s because they transmitted certain values and standards some of which have been lost…were it not for them Guyana would have been a very different place".