Officials from the Civil Aviation Authority have started to probe an incident which occurred at the Cheddi Jagan Airport this morning resulting in two planes being grounded.
A parked Fly Jamaica 767 aircraft was badly damaged when part of the wing of a Caribbean Airlines plane that was taxiing  connected with the exhaust area of the Fly Jamaica plane, hitting that section completely off and also damaging the stabilizer for the aircraft.
Passengers and crew of the Fly Jamaica plane had just left the aircraft and maintenance staff members were getting ready to board when the incident occurred.
The Caribbean Airlines flight had just arrived from New York and was heading to its parking area on the tarmac when it connected to the back of the Fly Jamaica Plane.
There were no injuries and no visible damages to the Caribbean Airlines plane.  However, as part of the probe by the GCAA, both planes will have to remain grounded.
The Pilot for the Caribbean Airlines plane is expected to provide and statement and face questioning by investigators today as the probe begins.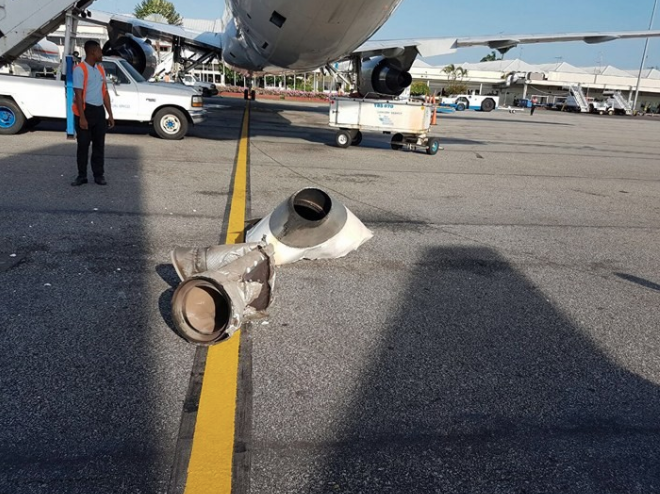 Fly Jamaica has been forced to postpone its service to Toronto today as a result of the incident. The 767 is one of two aircraft owned by the airline, which plies the Jamaica, New York and Toronto routes from Guyana.
The incident comes at a time when the airlines are getting ready for the busy Christmas holiday travel season.