With a battery of lawyers at his side, the potty mouth Attorney who was caught on camera in an explicit laced tirade against a Police officer, appeared in Court this morning and entered not guilty pleas to the five charges he is facing. He was released on self bail.
The Attorney, Ryan Crawford, was subdued as he appeared before Magistrate Peter Hugh at the Vigilance Magistrates' Court and listened as the five charges were entered against him.
He was charged with Prohibition of Tinted Glass, Failure to Produce Driver's Licence, Driving an Unfit Motor Vehicle, Use of Obscene Language and  Riotous Behaviour.
The charges stemmed from an incident that took place on September 13 along the Yorkshire Road, East Coast Demerara.
The Court learnt that during that traffic stop, the Attorney cursed out the Police Officer with several expletives and also failed to produce his driver's license.
During the investigation of the incident, it was uncovered that at the time of the traffic stop, Crawford had been driving the motorcar with an expired road fitness certificate.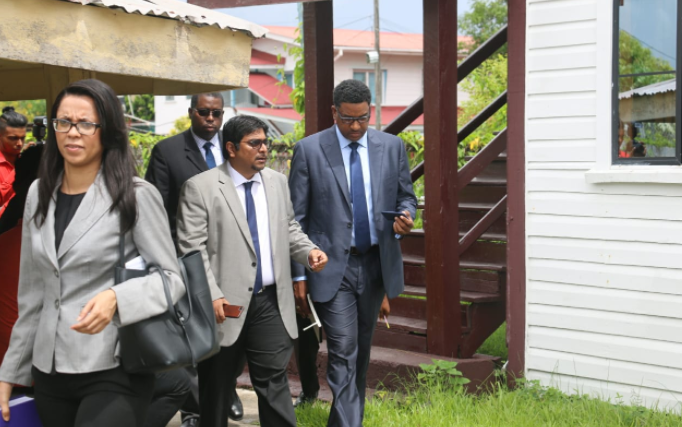 In the video, which has been making the rounds on social media, the Attorney could be seen berating the officer for stopping him, declaring that he must give him a reason for stopping him.
When the Officer responded that he could not have clearly observe the driver, the Attorney responded with a profanity laced objection to being stopped, claiming that he was behind two trucks.
"I was behind two trucks, so what you telling me man, what s@#%t you telling me man? What F$%#ing nonsense you telling me? What F%$#ing nonsense? Hello,  My name is Ryan F@#$ing Crawford, you tell them, whoever you taking to, Attorney-at-F#@%ing-Law, you hear me? So F#$k you", the Attorney declared.
Among the Attorneys representing him in Court today were Sanjeev Datadin, Pauline Chase and Ganesh Hira.
Crawford will make his next appearance in Court on October 10, 2018.