A 19-year-old motorcyclist who was caught on camera assaulting a police officer before hopping on to the officer's motorcycle was today slapped with several charges as he appeared at the Georgetown Magistrates' Court.
The youth, Anthony Clarke appeared before Magistrate Clive Nurse and was charged with three traffic-related offences.
Clarke admitted that on the 28th September 2019 at North Road, Lacytown, he was riding an unregistered motorcycle. He also admitted to not being the holder of a driver's license.
Additionally, he also pleaded guilty to breaching a one-way street.
He was fined a total of $65,000 following his guilty plea.
The young man was then taken before Magistrate Faith McGusty where he faced four additional charges related to the assault of the traffic rank who stopped him.
The Court was told that the teen assaulted Police Constable Joel Samules, while the Policeman was acting in the execution of his duties. He was also charged for disorderly behaviour, use of threatening language and damage to property. It was claimed that he damaged one of the lights on the Police Force's motorcycle when he hopped on it.
He pleaded guilty to the disorderly behaviour charge and was fined $25,000, but he denied the charge of damaging the property of the Guyana Police Force and the charge of abusive language. He will have to return to Court later this month for the continuation of those cases.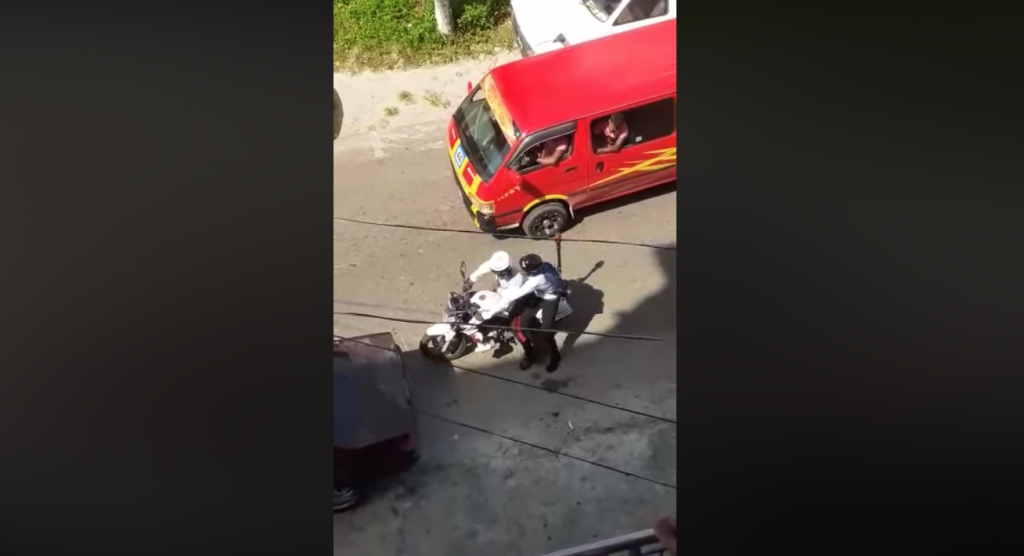 The traffic rank was conducting his duties along North Road when he noticed the young man breaching the one-way. The teen was pulled over and after it was confirmed that he was unlicensed and the motorcycle was also unregistered, the traffic rank took away the keys and ordered the teen to report to the Brickdam station.
The young man was caught on camera assaulting the officer and as the officer attempted to ride away with his keys, he hopped on to the back of the Police Force's motorbike.
The officer rode straight to the Brickdam station where the teen was arrested and charged.