Former Minister of Home Affairs under the PPP Civic administration, Ronald Gajraj, is suing PPP Member of Parliament and former Home Affairs Minister, Gail Teixeira, and the Guyana Chronicle over revelations recently released in leaked US government documents from 2005.
In the lawsuit which was filed in the Supreme Court on Tuesday, Gajraj, who also served as Guyana's High Commissioner to India, is claiming that his character was defamed as a result of "certain callous slanders" allegedly spoken by Teixeira and published in the Guyana Chronicle on November 17 based on the WikiLeaks cables.
He wants $10 Million dollars for "defamation" of his character by the two.
He also wants $10 Million from the Guyana Chronicle for publishing the statements which he considered libelous and he is seeking additional damages in excess of $10 Million from both Teixeira and the Guyana Chronicle.
Mr. Gajraj has also filed an injunction against the Guyana Chronicle from further publishing the statements contained in the official US documents.
Ms. Teixeira and the Guyana Chronicle were both served with the court action on Wednesday morning.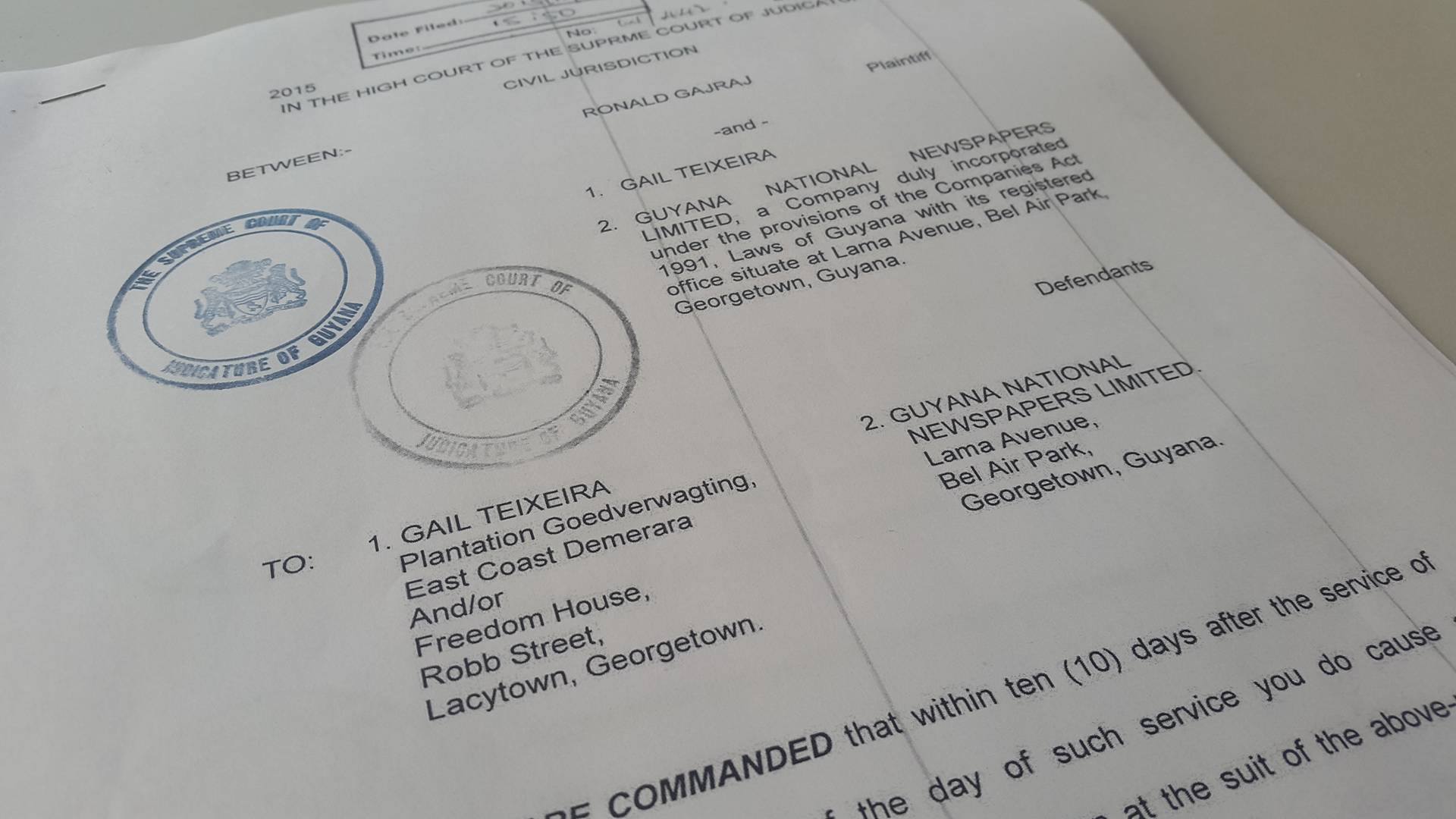 In the US cables between the local embassy and the State Department in Washington, the US Official in charge of the Embassy at the time wrote about meetings he held with Teixeira and statements she made about Gajraj in relation to several alleged activities that are believed to have taken place at the time.
She is reported to have provided the US official with various reports on several issues related to Gajraj who served as Home Affairs Minister just before she landed the job.
Ronald Gajraj was removed as Home Affairs Minister following his alleged knowledge and support of a phantom death squad that hunted down and killed wanted criminals and criminal suspects during the crime spree which began in the year 2000.
A number of the former members of the phantom death squad had fingered Gajraj as having knowledge of the existence of the squad. Telephone records also linked him to a number of persons who were part of the death squad.
After being ousted from the Home Affairs post, Gajraj was handed a diplomatic appointment as Guyana's High Commissioner to India by President at the time, Bharrat Jagdeo.
He has always professed his innocence in the matters surrounding the death squad although a Disciplined Services Commission of Inquiry heard otherwise.