One day after government reiterated that it could no longer financially support the failing sugar industry the way it has done in the past, a large number of field and factory workers of the Rose Hall Estate continued to protest the potential closure of that estate.
Despite the rainy weather, the workers staged a picketing exercise outside of the estate calling on the government to reverse any plan of closure.
A statement from the Guyana Agricultural and General Workers union (GAWU) said the workers are strongly opposed to any plan to close the estate.
GAWU's General Secretary, Seepaul Narine, who took part in the exercise and addressed the workers at its conclusion, encouraged them to heighten their calls against the closure plans.
The exercise comes at a time when President David Granger stated that the Albion, Blairmont and Uitvlugt Estates will likely be the ones remaining in operation.
On Monday, during the central May Day Rally, Natural Resources Minister, Raphael Trotman, said the closure of some estates was understandably a tough decision, but it is one that must be taken.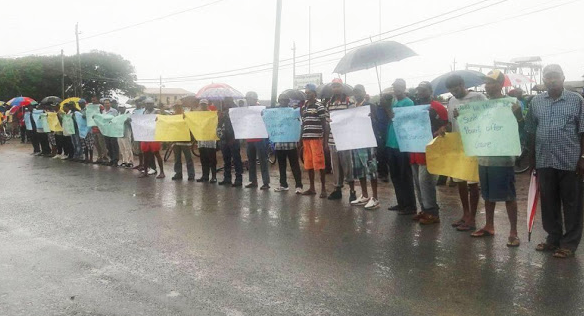 He was at the time delivering remarks on behalf of the President.
"You can't treat a failing organ with a panadol or an aspirin… the same way the previous government shut down fields and moved bauxite into privatization, we have some hard decisions to make," he said.
The Rose Hall Estate employs over 2000 persons.
The Union fears that several families and communities along the Corentyne will see major economic challenges if the estate is closed.
At the next Sitting of the National Assembly, the government and opposition are expected to debate government's White Paper on the future of the industry.