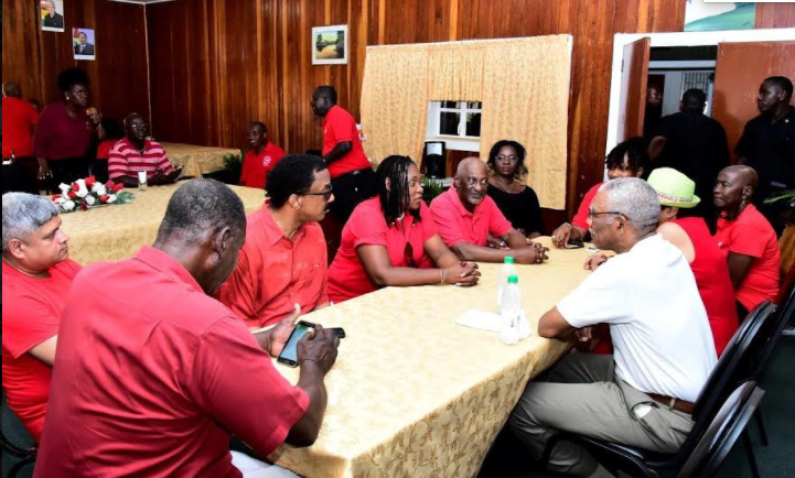 Trade Unions have raised their voices in a united call for President David Granger to honour his stated commitment of working with a united trade union movement.
On Monday, the unions called for direct engagement with the Head of State on a number of issues.
Following a request by the President, the Guyana Trades Union Congress (GTUC) and the Federation of Independent Trades Union (FITUG) Trades Unions and the Political Parties came together for a united May Day rally.
But just as the once divided unions have come together on the premise of a united working class, they want the President to acknowledge a letter sent to him back in September 2016, asking for an engagement.
Leading the charge was GTUC General Secretary, Lincoln Lewis, who said the request must not be seen as the union asking the President a favour. Mr. Lewis called on the government to prove that it is still a friend of the trade union movement.
"Politicians don't grant favours. We elect them and they must work for our interest," he added.
Lewis also called on the President to restore collective bargaining in the public sector, which was undermined by the previous government.
"These are the things President Granger had condemned and said under his stewardship they will be different," Lewis said.
The GTUC General Secretary said the President and the APNU+AFC government must fulfill its promises to the workers lest they be seen as "damn fools."
He also wants the government to reinstate the Ministry of Labour which has been dissolved into a Department. "The Ministry is important for shaping and executing labour policies that affect he workers."
"I trust that these requests will not be a challenge for the President in keeping with his stated commitment to a united labour movement… if the government is still a friend of the trade union movement as it was prior to 2015, they must prove it," he added.
In the same breath, Lewis said history has proven that nothing is given willingly and encouraged his colleagues to fight for what they want.
"Those who don't find us relevant today once found us relevant yesterday… throughout political seasons we must remain consistent and organized. We have permanent interest and not permanent friends," he encouraged.
He was backed up by GTUC President Coretta McDonald, who in her maiden address as President, built on the call for unity among the movement.
She said union leaders must shape up and fight  so that demands on the government will not be pushed aside.
"I am happy that after two decades we can sit in one arena with government, opposition and trade unions", she said.