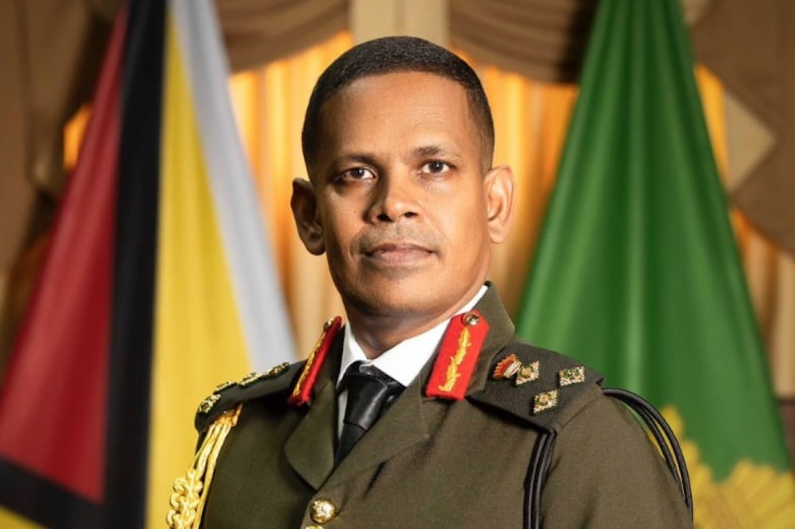 The Guyana Defence Force kicked off its 58th Anniversary celebration with Chief of Staff Brigadier Omar Khan telling his troops that those claiming Guyana's territory must respect the processes of international law.
At prayer service at the GDF's Camp Ayanganna, Brigadier Khan said the GDF will remain vigilant as it continues to protect and safeguard Guyana's patrimony and territorial integrity.
"Our primary function as the Defence Force is to defend the territorial integrity of Guyana, and which we have been doing since we were established, and we shall continue to do so", Brigadier Khan said.
He said the Guyana Defence Force will continue to do its best to carry out its defence function, adding that the Force is always ready to defend the sovereignty of Guyana.
Brigadier Khan said the GDF's mission to defend Guyana is non-negotiable.
"As your Chief of Staff, it is my responsibility to ensure that the Force is ready for any eventuality and I asked, Are we ready?", he questioned, as the troops responded loudly "Yes, Sir".
The Guyana Defence Force has been closely monitoring the border with Venezuela in wake of a build-up of Venezuelan military troops close to the border.
The GDF has also found itself monitoring the influx of migrants and refugees from Venezuela.
The Government of Venezuela has been stepping up its propaganda on the border controversy ahead of a planned referendum on Guyana's Essequibo region and ahead of Venezuela elections. 
Guyana has already rejected the planned referendum and has also moved to the International Court of Justice in an effort to block the questions in the referendum that are related to the border controversy.