A number of key members of the APNU+AFC coalition government came out of a meeting with the Guyana Elections Commission this midday with the assurance that the Commission will be merging the data from the house-to-house registration with the existing national register as it looks at the possibility of hosting elections this year.
Minister of Public Health and Chairman of the People's National Congress, Volda Lawrence led the delegation and after the hour-long meeting, she explained to the media that several assurances were provided by the Commission.
Ms. Lawrence said "today we were assured by the Chair and Commissioners that no timeline has been set and that they are working to see whether they will be able to hold elections this year, given the timetable which they have and the statutory requirements which they will ensure that they abide by".
She said the Commission has also assured that it will not be shortening any of the statutory exercises that will have to be in place for the hosting of elections.
The Elections Commission has been coming under fire from the Opposition People's Progressive Party over the Chairman's decision that there will be a merger of the data from house to house registration and the national register of registrants.
The Chairman, according to Lawrence, is holding on to that position and has assured the coalition of the merger.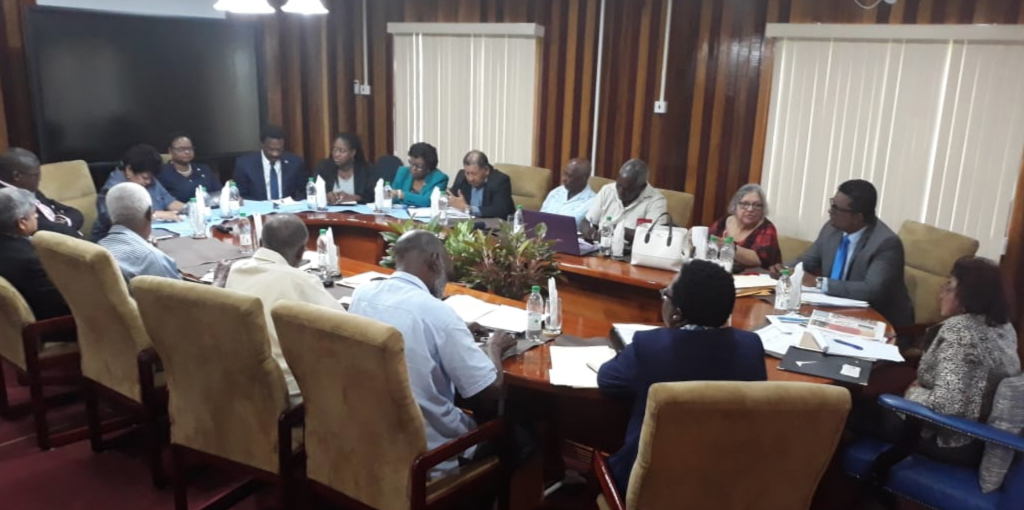 "We have been assured that the information from the house to house registration process will be used in the upcoming general and regional elections", Lawrence said.
Minister Lawrence said the government team enquired from GECOM whether there was a need for more finances as it moves towards early elections. The Commission said it is currently looking at that. A few months ago the Government approved over $3 Billion for the Commission.
The PNC Chairman said the coalition government is ready for elections and has been preparing for early elections. She said it was made clear to the Commission that the coalition wants credible elections with a credible voter's list.
Lawrence shot down claims by the Opposition Leader that the Government wanted to delay the process, saying that the Opposition Leader has been trying on his own to set GECOM timetable rather than to allow the independent body to do its work.
She said the government has been following the law and abiding by the various rulings of the Courts since the no-confidence motion and the challenges in the legal system.