A fidgety Chairperson of the Guyana Elections Commission, retired Justice Claudette Singh appeared before the Elections 2020 Commission of Inquiry this morning and testified that she became overwhelmed after the Returning Officer for Region Four, Clairmont Mingo declared the region's results before a final tabulation of the votes.
Between repeatedly glancing at her wristwatch to rolling her eyes at some of the questions she was being asked, the GECOM Chair told the Commission of Inquiry that the 5th March 2020 was a day filled with chaotic events, highlighting a reported bomb threat at the Command Centre to a premature declaration of the Region Four results.
She told the Commission of Inquiry that she was in a meeting with other Commissioners when the Canadian High Commissioner at the time came to the room to inform them that the Returning Officer was declaring results.
"Everyone ran out of the room because this was something unheard of, and nobody thought that would have happened", she told the Commission of Inquiry.
Justice Singh said at the time she knew that the tabulation of votes had not been completed, so she could not understand how results were being declared ahead of that tabulation.
She said she became confused and at one stage, she became so dizzy and frustrated that she locked herself in a room away from the chaos that had enveloped the GECOM Command Centre after Mingo's declaration.
"I felt a little dizzy; I wasn't feeling well and there were so many things on my mind, and I was actually shaking…You see with the declaration, there was an injunction filed by Mr Nandlall then against the declaration, and there were so many things on my mind, and I wanted to know what to do, the next step. So, I just couldn't be bothered with anybody. I went up there, just to have a quiet moment," the GECOM chairman explained
The retired judge said her decision to lock herself in the room was against the advice of her security detail, who believed that she should have instead taken a break from the building.
She testified that she wanted some quiet time to gather her thoughts.
"I didn't want to speak with anybody. I just wanted time; I felt a little dizzy, and I just wanted to be by myself," Justice (Ret'd) Singh said, while noting that she didn't know who to trust. She said she also felt overwhelmed with several phone calls to her mobile phones. Those calls came from officials in and out of Guyana, including from the Secretary General of the Commonwealth and a number of local Diplomatic representatives.
The GECOM Chairman said as she sat in the room, she heard a loud commotion outside along with what appeared to be chants of "I want the Chairman! I want the Chairman!"
She said based on what she heard, those on the outside had made it clear that they were going to break into the room to get her.
"I panicked. I became very much afraid, and I said look, and I dialed Ms Amna Ally (former Government Minister) and I called her because I was afraid for my life; I thought people were coming to harm me…and she told me that she would be calling someone," she further detailed.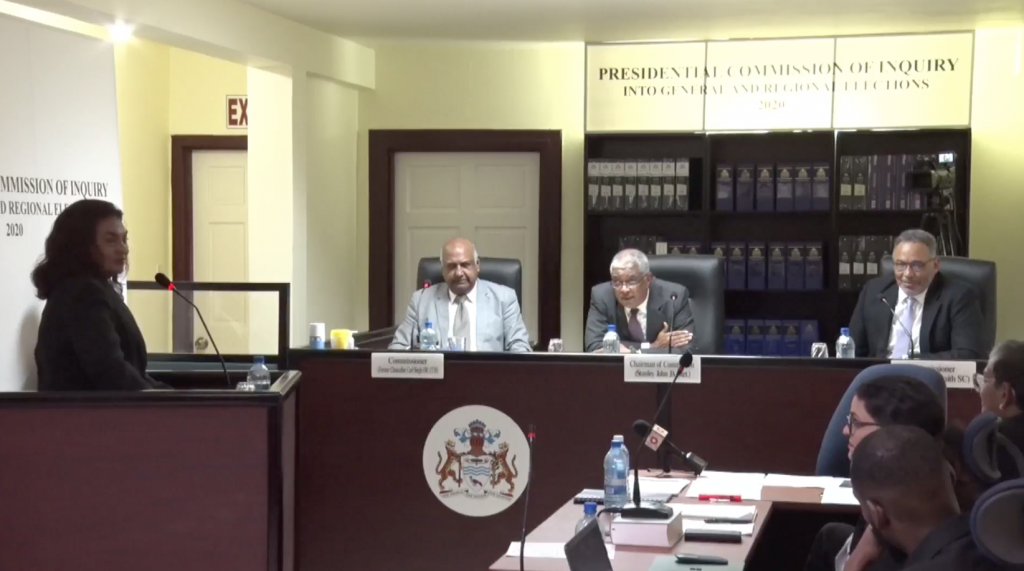 She said it was not until the door was forcibly opened that she recognized some of the persons on the outside, including political party candidates and a Police inspector. Singh said she was eventually led out of the building by a senior Police officer.
The Commissioners at the Inquiry appeared surprised and concerned about many of the revelations from the Chairman of the Elections Commission.
Former Justice of Appeal in the Eastern Caribbean Court, Senior Counsel Godfrey Smith, grilled the GECOM Chair on what he saw was a decision by her to abandon her post at a critical juncture in the elections.
He described some of her actions as "odd"
"To say you couldn't be bothered seems odd because you are the Chair and you are in the middle of a very serious situation. I simply want to know, at that point did you call other Commissioners, and say look, I am feeling stressed, let's meet together and weather the storm, I am not taking this on, on my own. Did that occur to you or you just preferred to shut yourself away?" Commissioner Smith questioned.
Responding in the negative, Justice (Ret'd) Singh said at that time, the Commissioners had left the building.
Though admitting that prior to her appointment as GECOM Chair she served as a Legal Advisor to the Guyana Police Force, Justice Singh said she had no number for the police, and simply panicked.
"I didn't think, because I just panicked. I panicked. Commissioner you would not understand what was happening, and you would not understand because you didn't live here, what stress I was going through and threats which were made against me," she told the Commission, noting that she didn't know who to trust.
But immediately after, Justice Singh said she accidently called Inspector Narine, and during a brief conversation with him, said she was sick.
A number of persons including political candidate Dr.Josh Kanhai had testified that when the door to the Chairman's room was forcibly opened, the GECOM Chair was seen sitting on a sofa next to the Deputy Chief Elections Officer (DCEO) Roxanne Myers and that there were a group of men keeping guard.
Today, Justice Singh denied that allegation, contending that at the time she was in the room with her security guard and driver.
She also testified that she had told the Returning Officer for Region Four that the tabulation should take place from the Statements of Poll and not the spreadsheet. She said following Court action and after the recount, she faced another hurdle with getting the Chief Elections Officer to present a report with the results from the recount. The GECOM Chair said she was forced to send him a number of letters, but indicated that he could not be disciplined at the time since the entire Commission just wanted the results to be presented, which he eventually did.
He was later fired by GECOM.
There have been calls for Justice Singh to resign as Chairman of the Guyana Elections Commission following the aftermath of the 2020 elections. She has rejected those calls and has indicated that she will leave the job when she is ready to do so.