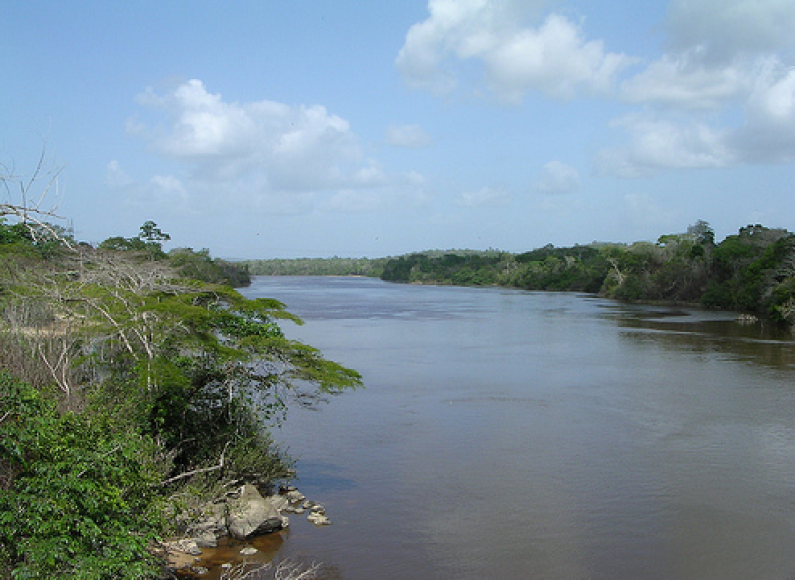 Three mining officers attached to the Guyana Geology and Mines Commission escaped without injury this afternoon (Monday) after coming under gunfire from Venezuelan soldiers in Guyana's Cuyuni river near Eteringbang.
The three officers were traversing the area carrying out monitoring duties when at least four gunshots were fired at their boat by the Venezuelan soldiers from the Venezuelan side of the border.  The officers were forced to lie flat in the boat until the gunfire ended.
The Captain of the boat was able to get the attention of the soldiers and they ceased fire. The Captain who is not employed with the GGMC then went across to the soldiers and explained that he was transporting mining officers of the Guyana Geology and Mines Commission.
The GGMC Officers were forced to identify themselves to the Venezuelan soldiers and were then allowed to continue with their journey.
Commissioner of the GGMC, Newell Dennison, confirmed the incident to News Source this evening and said that all of the GGMC officers are safe and are safely back at their base in the area.  He explained that he has been briefed on the incident and has also briefed the Minister of Natural Resources.
According to reports from the area, mining officers usually traverse the Cuyuni River and have never come under attack by the Venezuelan soldiers.
It was raining heavily when the incident occurred and the mining officers were left shaken by the occurrence.
A report has been made to the Guyana Police Force base in the area and the Guyana Defence Force has also been alerted.
Venezuela continues to claim a large portion of Guyana's territory despite the issue being settled decades ago.  It was reignited last year by the current Venezuelan President, Nicolas Maduro.
Guyana's President, retired Brigadier David Granger, quickly moved to the United Nations about the issue and the UN has been investigating the acts of aggression from Venezuela.
President Granger has been continuing to alert the international community about Venezuela's ongoing threats against Guyana.  He made the issue a major part of his United Nation's address last year.  (by Gordon Moseley)