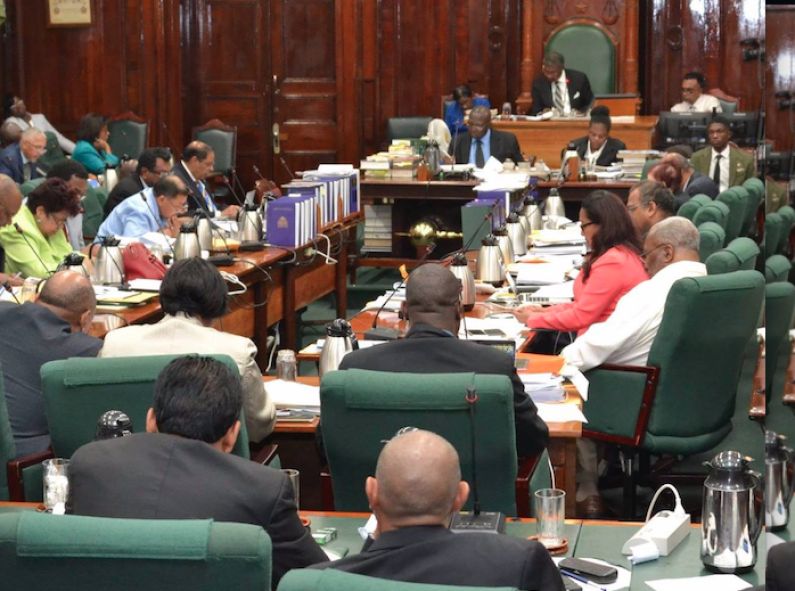 Speaker of the National Assembly, Dr. Barton Scotland, on Thursday upheld a 2013 ruling as Opposition Parliamentarians raised objections to the Government's Financial Paper #2 of 2017.
The opposition PPP rejected the format of the Supplementary Financial paper and said it does not conform to the requirements of the Financial Management and Accountability Act (FMAA).
The objection was raised by Opposition Parliamentarian Irfann Ali who said that section 24:4 of the FMAA outlines what has to be contained in the document.
Ali said the government cannot decide to breach the Act and bring a financial paper before the House that is not in keeping with the law and expects it to be endorsed.
"The supplementary paper is not properly before us," Ali charged as he requested that Speaker Scotland make a ruling on it.
But former House Speaker Raphael Trotman, who now sits as a Government Minister, opposed Ali's argument and explained that during the 10th Parliament, the same matter came up and it was ruled that the government may choose whatever format it wishes to bring financial estimates before the House.
Mr. Trotman said that it is for the Parliamentarians to accept or reject the format.  He said once the paper makes it onto the Order Paper, the House must decide how it proceeds. The government currently hold a one seat majority in the National Assembly.
"It is not appropriate for it to be rejected at this stage," Trotman added.
But Ali continued to push for a ruling by Speaker Scotland and he continued to request an analysis of the impact the supplementary provision will have.
Trotman and the Speaker agreed that the format has always been the same and questioned the Opposition's motive for its objection.
"Every supplementary paper has been in this format. Two weeks ago voted on the same format," he added.
Trotman also reminded that the Speaker's ruling #5 of 2013 was accepted by the then PPP government and was greeted with much acclamation.
The Speaker also entertained arguments from MP Gail Teixeira and Anil Nandlall who reinforced Ali's arguments.
After hearing arguments from both sides of the House and seeking advice from the Clerk, the Speaker maintained that the financial paper could be voted on in its current form.
"I embraced the ruling which guided us […] this ruling continues in its present form and that will guide this House," he said.
The opposition maintained that the government was violating the law.
In the Financial Paper, the government is seeking several million dollars for the rebuilding of the Camp Street Prison among provisions for other agencies including the State Asset Recovery Agency.