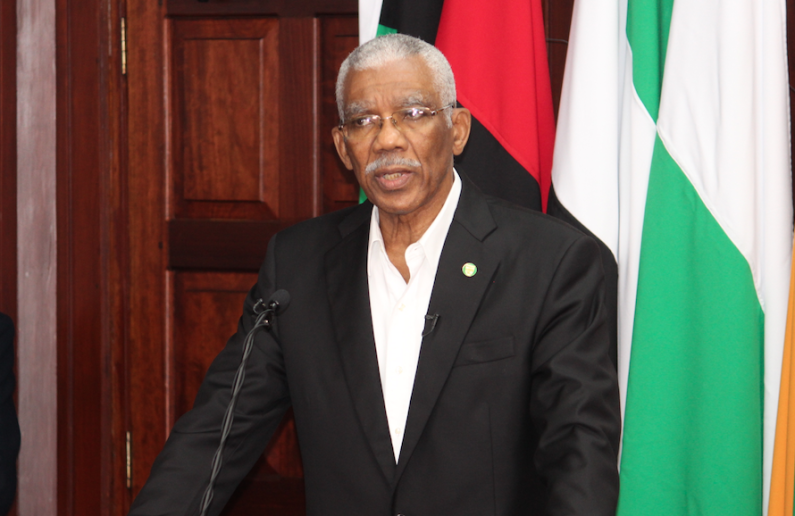 With schools set to officially reopen their doors on Monday amid a nationwide strike by teachers, President David Granger today announced that the Government is now actively searching for fresh sources of funding to offer striking teachers an improved salary.
"Even as I speak, the Ministry of Social Protection, which has responsibility for labour and industrial relations, is in touch with the Ministry of Finance, to see whether additional funds could be found from other heads of Government expenditure in order to move closer to the goal of providing sufficient funds for the teachers. We had to do this in the case of the Guyana Sugar Corporation workers, in which all Ministries voluntarily surrendered funds that were allocated for other purposes and this is what is being attempted", Mr. Granger said.
At his first press conference for the year, President Granger said he views the strike action as extreme, but believes the negotiation process should continue through conciliation and then possible arbitration. He said he does not believe mediation has failed.
"At this stage, the immediate need is for us to conclude an agreement which would see the teachers calling off the strike and entering long term negotiations for that multi year agreement."
The Government in its counter offer to the teachers, is only covering one year of salary increases while the GTU wants an agreement that will cover the next five years.
The President said that while a multi year agreement would be desirable, the two sides have not had the opportunity for those talks to continue, adding that, "this is not the time" for a multi year deal.
A Special Task Force that was set up by the President has recommended a 40% salary increase for teachers for 2016 and 5% annually for the remaining four years.
The Government has offered $700 million to cover an across the board increase for teachers but that increase might only see an additional $4000 on the salary of teachers. The GTU said that figure is not enough.