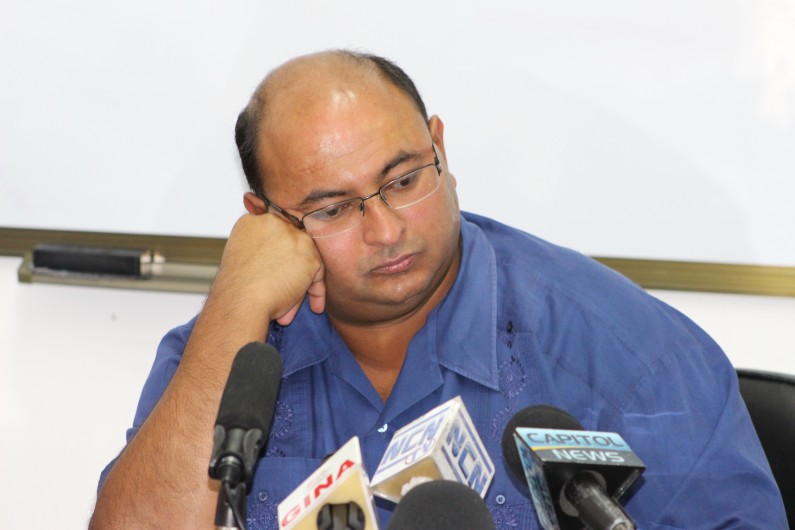 Chairman of the Guyana Power and Light Company (GPL) Winston Brassington on Tuesday indicated that while the company can afford the 10% reduction in electricity charges, it will monitor the price for oil on the international market and will adjust charges if the need arises.
At a Tuesday afternoon press conference at the company's head office, Brassington who was flanked by company executives and managers said GPL is currently in a position to stand on its own feet financially and that is one of the reasons why it could have moved easily to reduce the cost for electricity as the price for oil dives on the international market.
"We are very happy that we are able to stand on our own feet this year and enjoy the benefits of these lower fuel prices and we are looking to pass on what we can to you", Brassington said.
However, he cautioned that "we are doing this on a quarterly basis and so in July we will again review where fuel prices are and depending on that, adjustments to what we are doing might be made and so I want you to recognize that this fuel rebate is premise on the reduction of fuel prices and is likely to be revised and adjusted on a quarterly basis".
He said the government has been looking at a strategy that would avoid rates being increased above what consumers would have been paying before the imposition of the 10% reductions.
President Donald Ramotar made the announcement of the 10% decrease in GPL charges at the commissioning of a new power plant on the West Coast of Demerara on Monday. Brassington said while the President was first to make the announcement, the decision  was one which was made by the GPL board. He brushed aside accusations that the reductions may be linked to the upcoming elections. The GPL chairman said it is coincidental that the international prices for oil are spiraling downward at this time when Guyana is also preparing to head to the polls.
GPL racked up a US$105 Million fuel bill in 2014. The falling price for fuel will see the company spending close to US$70 Million this year on fuel. The company will save close to US$35 Million in 2015 on its fuel costs, thanks to the falling oil prices.
GPL's 10% fuel rebate is being applied to the residential, commercial & industrial tariffs. Consumers whose billing cycle begin in the latter part of February and ends in March will benefit from the reduction on their entire consumption for this period.
"GPL will therefore, not prorate consumption when applying the fuel rebate. The rebate is in keeping with the fall in the world market fuel prices, resulting in the decision to reduce tariff rates by 10%", Brassington told the media.
He added that Consumers should be aware that the 10% rebate is being applied to energy charges and not fixed charges.
SEE NEW CHARGES BELOW:
Filed: 10th February, 2015