The Guyana Public Service Union (GPSU) used its 21st Biennial Delegates Conference on Wednesday to blast the previous People's Progressive Party (PPP) government for its relegation of the public service but also to put the new APNU+AFC administration on notice that it will not countenance a situation where it mimics its predecessor, in its treatment of public servants.
GPSU's President Patrick Yarde said the union hopes to make a fresh start with the APNU+AFC government but expects that due attention would be paid to the concerns of members.
Yarde said public servants endured frustration and were relegated to misery under PPP but expressed the hope that change has come.
He said the PPP failed to understand that the public service is the bedrock of efficient service on which government stands and called on members that while they look to a better future to not forget the past.
"We must not forget the politicization of the Public Service Commission… the non – function of Public Service Tribunal… denial of promotions… nonpayment of increment… denial of natural justice and due process and blatant discrimination," he said.
The GPSU President accused the PPP of blatantly trying to suffocate union financially and called on the APNU+AFC government not to allow the abuses of the pass to repeat itself.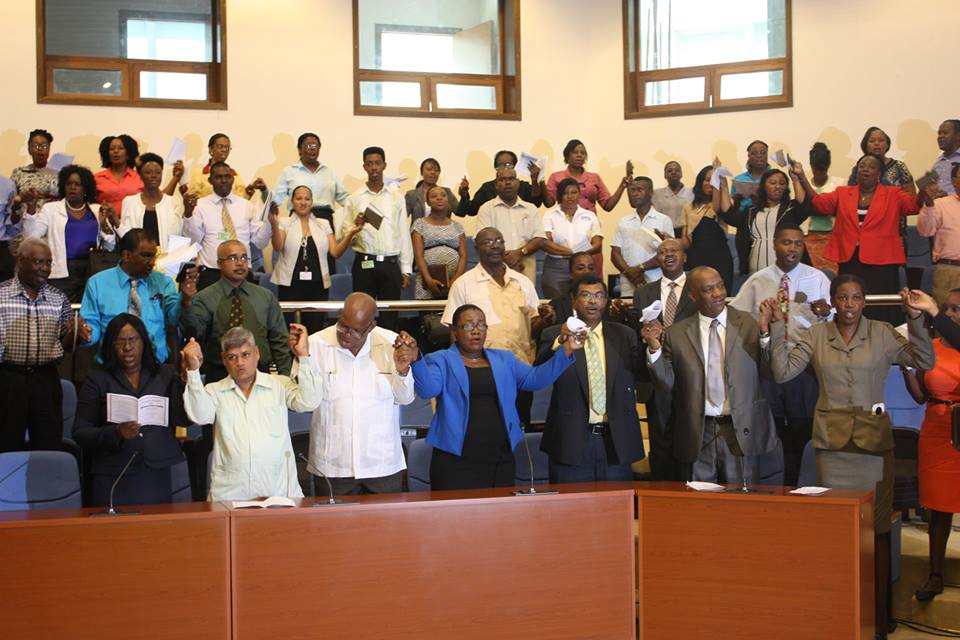 "This union will not embrace double standards. We call for end to lip service… we not only desire better emoluments but a restoration of dignity to the public service," he added.
Speaking directly to several Government Ministers present, Yarde said Public Servants must never be intimidated but respected and urged that the Public Service Appellate Tribunal be returned immediately along with the honouring of the outstanding awards.
He said in accordance with new government stated commitment, the GPSU expects the government to adhere to the principles of collective bargaining.
"It is a non negotiable element in our relationship."
Meanwhile, speaking on behalf of the government and President David Granger, State Minister Joe Harmon assured the gathering that the APNU+AFC was a caring government that understands that it cannot function without a public service. He said "you are involved in one of the most important task of national life, the delivery of public service. The public service needs to be efficient to create environment in which the populace can have a good life."
Harmon said the government also understands the importance of a vibrant public sector in fighting corruption, adding that the administration intends to use the findings of the ongoing Public Service Commission of Inquiry to address the burning issues in public sector including, wages and salaries.
Harmon added that the administration is also seeking to eradicate the use of illegal software on government systems and has already engaged Microsoft Cisco.
"The APNU+AFC government is a friend to the public sector, not an enemy," Harmon said as he reiterated the government's understanding of the crucial role the public sector played and continue to play in national development.