President David Granger has pledged to allocate two million more hectares of land and waterways for conservation.
Speaking at the Tourism and Hospitality Association of Guyana's (THAG) President's Awards Ceremony 2016, the President remarked that Guyana has been abundantly blessed with natural resources and must utilise them for its economic development.
Speaking at the event, which was hosted at the Guyana Marriott Hotel, President Granger reiterated his administration's fundamental commitment to the tourism sector and sustainable economic growth, even as Guyana transitions to a 'green' economy. He added that the benefits of equitable and sustainable development are too numerous and transformative to be ignored.
His plan to increase conservation areas was made in keeping with the administration's commitment to the development 'green economy', the Paris Agreement on Climate Change and growth in the tourism sector.
"What a country! What wildlife! What a waste to ignore the great gifts of nature. Guyana's abundant flora and fauna constitute a priceless national and natural treasure. Our animals are capable of generating more income alive than dead; in their natural state and habitats than in pepperpot or souse. They can contribute more to the development of a world-class and globally competitive, eco-tourism product than anything else," President Granger said.
He explained that allocating more space to the protected area system will ensure that these natural resources are used sustainably and preserved for future generations.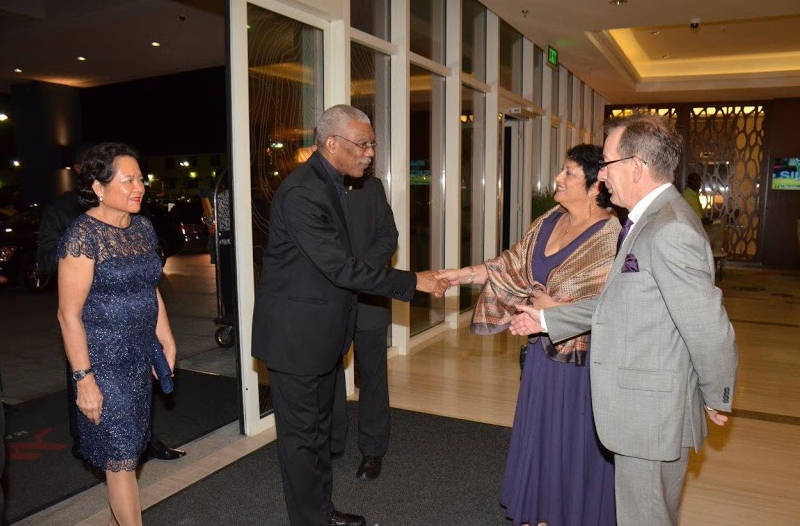 "These areas will be established in each of our ten regions to ensure that conservation is national in scale and covers all of our ecological zones in scope. Ecological parks, nature reserves and sanctuaries for our endangered species will be established to protect our flora and fauna and our natural habitats, ecosystems. Guyana's ecotourism competitiveness will be enhanced by the fact that we are part of Caribbean and also the continent.  We share borders with three South American countries. We are placed strategically to tap into the large tourist markets of our sister states of the Caribbean and the continent," the President said.
He noted too that tourism is essential to the growth of the national economy. It is neither a hobby nor a sideshow. "Guyana must learn to manage the tourist industry with the same seriousness and thoughtfulness with which it manages the gold and rice industries," he said. The President added that it is one of the main drivers in the world economy and that this is no different for our small, developing state.
"It was a couple of years ago, the seventh fastest growing sector of the global economy. The rate of growth of the sector in 2015 outpaced the rate of growth of the global economy. The industry generated US$ 7.2 trillion annually or 9.8 percent of global Gross Domestic Product. It accounted for one in every eleven jobs in the global economy. Tourism has established itself as an extremely resilient economic sector. Its prospects are bright. The industry is projected to enjoy sustained global economic growth over the next decade. This growth is expected to be driven by emerging destinations," the Head of State said.
A new era
Guyana is the next frontier for tourism, the President said, explaining that tourists have grown tired of the traditional lure of the sun, sand and sea that is offered by most of the Caribbean states. Tourists are now interested in finding ways to enjoy and commune with nature.
"Tourists are seeking to understand the world in which they live. They…are becoming increasingly conscious of the need to protect the environment. Tourists are seeking exciting experiences. They are choosing, increasingly, 'adventure' tourism; 'education' tourism; 'eco'-tourism; 'geo'-tourism and 'wildlife' tourism, in preference to hunting expeditions and trophy safaris. These numerous and various products are available as part of the basket of products in our tourist industry on which this country could be, should be and would be concentrating," the President said.
Capitalising on Guyana's natural patrimony can make it a prime eco-tourism destination globally, even as it transitions to a 'green' economy.
 "It has the capacity to become the most transformative sub-sector in the economy. Our country's competitive advantage lies with eco-tourism. We must exploit this advantage. Guyana is strategically situated in one of the world's most attractive geo-physical zones… Forests still cover over three-quarters of the country's territory. We possess vast areas of unexplored and virgin territory. We possess innumerable sites and attractions for the development of ecotourism," the President said.
He reiterated that promoting eco-tourism is vital to diversifying Guyana's economy over the next two decades and beyond and the sustainable use of the environment is central to its 'green' strategy. In keeping with this, President Granger said government will ensure that the eco-tourism sector accords with the principles of sustainable development.
"Eco-tourism, for us, involves the preservation and conservation of our natural assets… Guyana's eco-tourism product, however, cannot be developed without improvement in investment, infrastructure and information technology," he said.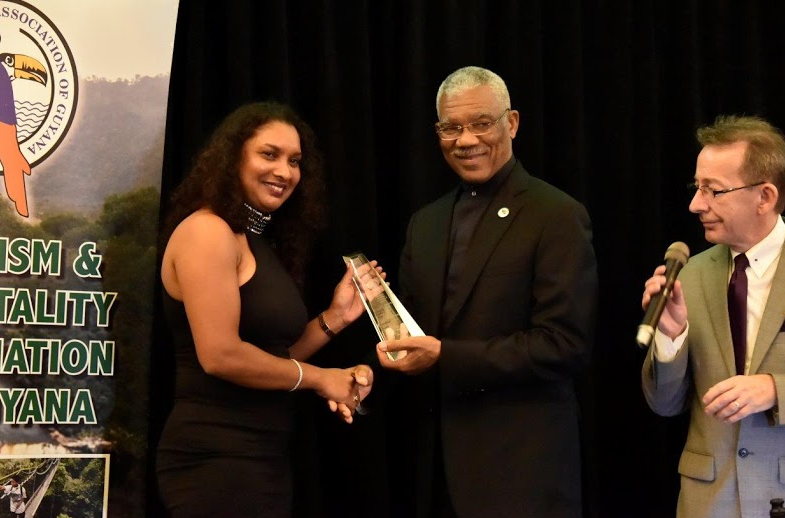 To this end, the President pledged that infrastructural development will be done in keeping with the overall aim of linking communities via the erection of aerodromes, construction of highways, roads and stellings to facilitate the ingress and egress of persons for their livelihoods and to advance tourism.
Meanwhile, THAG President, Mr. Shuan McGrath praised the government's plan for sustainable economic growth. He extolled that the benefits are numerous and cross several categories.
Mr. McGrath said that "A green economy can be thought of as an alternative vision for growth and development; one that generates growth and improve peoples' lives in ways that are consistent with sustainable development. To put it simply, a green economy promotes a triple bottom line sustaining and advocating economic, environmental and social wellbeing."
He also spoke of the economic benefits that accrued from Guyana's Golden Jubilee Independence Anniversary celebrations and pointed out that visitors in May doubled and all hotels, guesthouses and inns were fully booked over that period.
At the close of the function, four organisations and one individual were honoured for their outstanding contributions to the tourism sector. The Hotel of the Year award went to the Marriott Hotel Guyana, Resort/ Lodge of the Year to the Arrowpoint Nature Resort, the Direct Tourism Services Award to Trans Guyana Airways, the Tourism Supporting Services Award to Ansa McAl Trading and Hall of Fame Award 2016 to Mr. Tony Thorn.
Each of the awardees expressed their thanks, while voicing their hope that the sector can become one of the leading ones in the Caribbean and South American. (MOTP)