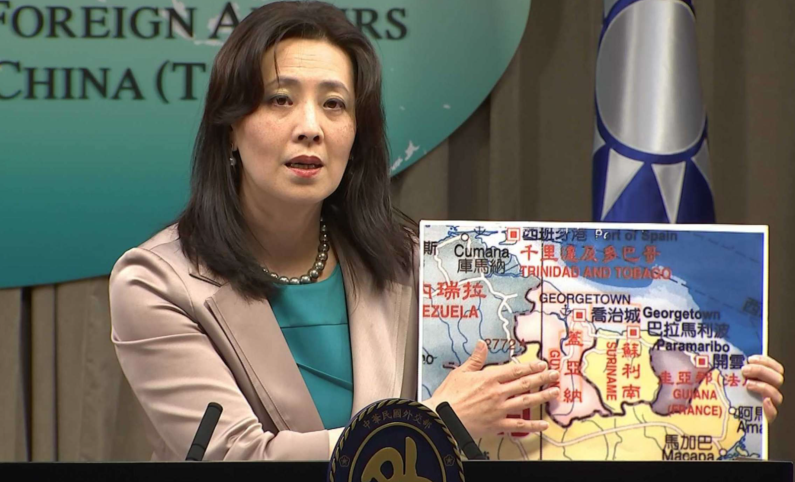 In a move that is expected to anger China and raise questions about the government's commitment to the One China Policy, the Government of Guyana has granted approval for the opening of a Taiwan Investment and Trade Office in Guyana.
The "One-China policy" asserts that there is only one sovereign state under the name China and China sees Taiwan as a breakaway province.
Guyana signed an agreement with Taiwan to allow it to open its office in Guyana back in January, but the decision was only announced last night by the US Government in a tweet.
In the tweet by the Assistant US Secretary of State for Western Hemisphere Affairs that was later shared by the US Embassy here, the US Government said it applauds the agreement to establish a Taiwan Office in Guyana. 
According to the US Government, "deepening ties between Guyana and Taiwan will advance their shared goals of prosperity and security.  Closer ties with Taiwan will advance cooperation and development in Guyana on the basis of shared democratic values, transparency, and mutual respect."
The Guyana Ministry of Foreign Affairs is still to release an official statement on the issue, but senior Foreign Affairs officials have indicated that China was informed by the Guyana government of its decision to allow the opening of a Taiwan Office in Guyana.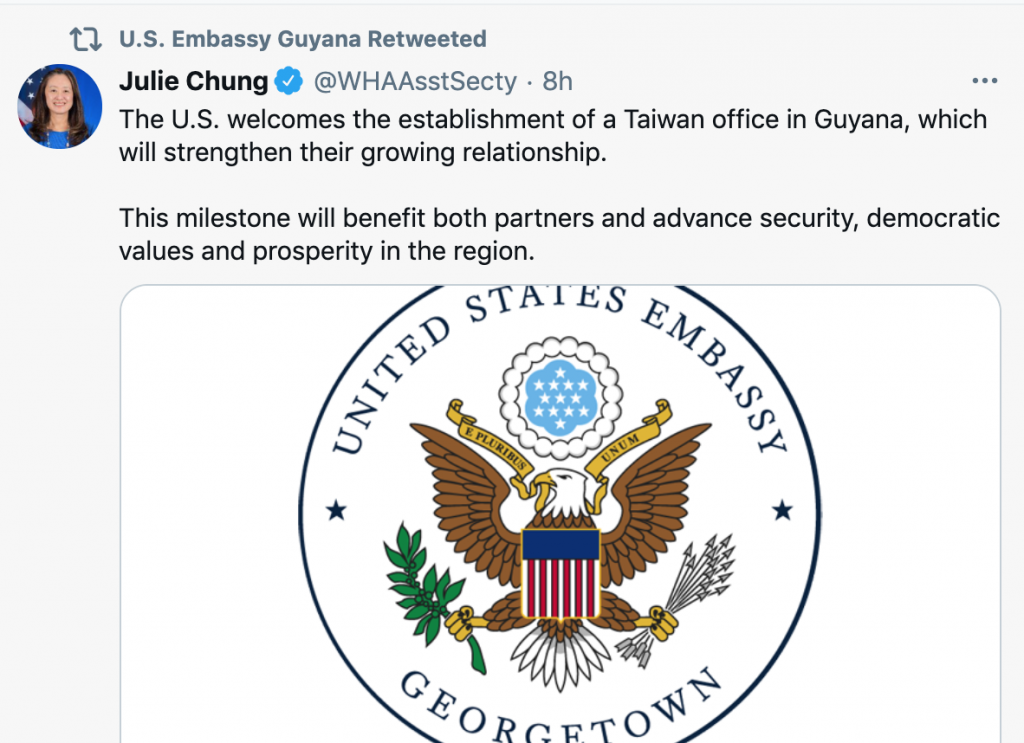 One official has insisted that the move should not be seen as any development of diplomatic relations but just as a means to establish and improve trade relations between Guyana and Taiwan.
In a tweet, the Taiwanese Ministry of Foreign Affairs late last night announced that a Taiwan Office has been established in Guyana.
According to the Foreign Ministry in Taiwan, the facility represents the commitment of both sides to promoting a partnership of prosperity based on democratic values across areas like agriculture, education, investment & trade.
The Chinese Government has not yet made any statement on the issue, but Guyana and China have enjoyed diplomatic relations for over 45 years and this is the first time that Guyana has moved to have a Taiwanese office.