Guyana and Brazil recommitted themselves today to ensure the South American continent remains a zone of peace with respect for territorial sovereignty.
The recommitment came during an official State visit by a delegation from Brazil to Guyana which included its Minister of Defence Raul Jungmann and Minister of Justice, Torquato Jardim.
President David Granger conferred the visiting Minister of Defence with the insignia of the National Award, the Cacique Crown of Honour (CCH) at an Investiture Ceremony which was held at State House.
The Guyanese Head of State said the Award recognizes not only Mr. Jungmann personal diligence but also his nation's demonstrated commitment to the preservation of the Caribbean and South America as a zone of peace.
President David Granger also recognized Brazil's commitment to the promotion of international law, commitment to international peacekeeping and humanitarian relief and its commitment to defense cooperation between the two countries.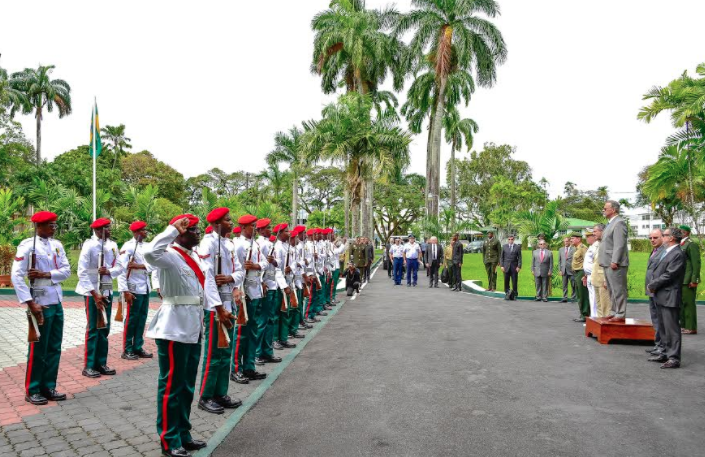 Coming a few weeks after his own state visit to Brazil, President Granger said the return visit is auspicious as the two countries approach celebrations of 50 years of diplomatic relations.
"It signifies the continuation of cooperation which the two countries have cherished since the establishment of diplomatic relations in 1968," Mr. Granger said.
The visit also comes on the heels of the United Nations referring the Guyana/Venezuela territorial controversy to the International Court.
Both President Granger and the Brazilian Defence Minister committed the two nations' efforts to ensure the region's peace is maintained and that controversies of these nature are resolved in keeping with international law and without force.
"Guyana is proud to have a neighbor as Brazil which is also a Friend. The friendship is founded on international principles of respect for territorial integrity," Granger added.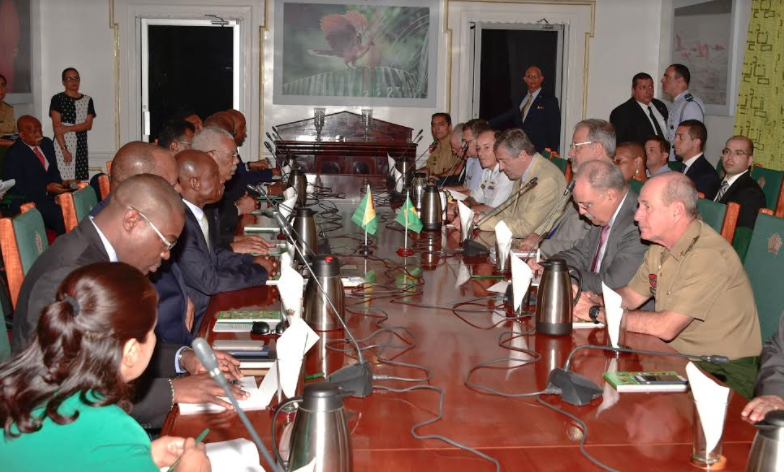 Meanwhile, Minister Jungmann told the gathering at the investiture ceremony and shortly after engaging a high-level government team led by President Granger, that Brazil supports Guyana in its quest for the fostering of peaceful relations, particularly among neighboring states.
He said for half a century of relations between the two countries and for its entire existence on the South American continent, Brazil has been able to live without conflict or use of force with its neighbors.
"There is no place for force," he said.
The Minister was keen to note Brazils support for international law.
"Brazil understands that for the stability of South America the prevalence of international law, resolution of conflicts and the compromise of justice, peace and democracy will be required from the people of Brazil."
The Brazilian Minister of Defence brought greetings from Brazil's Head of State and the entire Brazilian government and the people of Brazil.
During President David Granger's recent visit there, he spoke extensively on Continental Security Cooperation in South America.