President David Granger and President of Chile, Michelle Bachelet held bilateral discussions on Monday as President Granger began a state visit to the South American country.
The two Presidents have signed an agreement which has abolished the need for citizens of the two countries to acquire visas for travel to each other's country. They also signed an open skies agreement which will seek to develop air transport and cooperation in the aviation sector between Guyana and Chile.
Following the signing of the agreements, President Bachelet said "the visit of President Granger is very important for Chile, because it allows us to strengthen ties friendship, sharing views on the regional situation, and continue the work we began together with the community of Caribbean countries; in July this year when he attended the Summit of CARICOM in Georgetown ".
She added that Chile understands that integration is key to the development of the economies of the two countries and their peoples, adding that it is also key to respond to global challenges such as climate change and ocean acidification, and also to address such important regional problems such as drug trafficking, violence and natural disasters.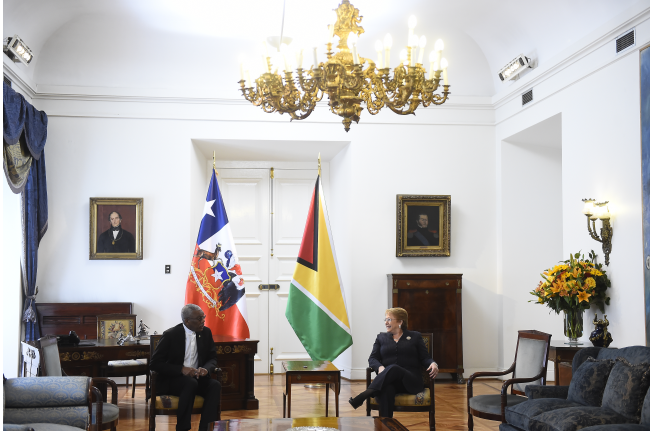 The President of Chile also assured that "with Guyana, we have a shared vision on these matters, and also share a sensitivity to issues as important as the assessment, promotion and defense of human rights, democracy and the defense of the sanctity of treaties".
President David Granger highlighted the importance of the two countries developing closer ties and working to ensure more unity and development.