The Guyana Goldfields Incorporated has set a 2015 date for the start of its gold production for the Aurora Gold Project. The new gold production project by the Canadian company is the largest in Guyana since Omai Gold mines limited and when it goes into full operation, it is expected to created hundreds of jobs.
The company's Board of Directors recently approved a $US238 Million expenditure for the project to reach commercial production. The company already has in excess of $US109 Million to further facilitate the investment and executives are confident that the additional funds will be granted in time.
At a presentation to update stakeholders on the progress of the setting up of the operations, the Chief Executive Officer of the Aurora project Scott A. Caldwell, said the company is on track with the second phase of the project which entails the construction and development of the area that the mining will take place. Cabin facilities for workers and development of production facilities are being completed.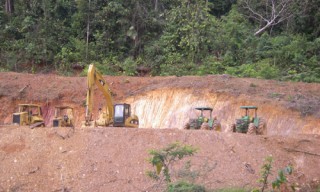 "We are really excited about this project", the CEO said. He explained that investors are big believers in the project and funding is guaranteed.
Most of the construction of the mine facilities will begin early in 2014.
The company's Human Resources Manager, Peter Benny told the meeting that the company is getting close to the stage of production and operation. The first bar of gold could be poured in mid 2015.
The company has indicated that the project will give a boost to the Guyanese economy. Already, over 200 persons are employed during the current pre-development phase. Within the next year, that employment number is expected to climb to just over 1000.
The company intends to keep Guyanese close to the project. Between 90% to 95% of its workforce will be Guyanese. Additionally, hundreds of millions of US dollars will go in taxes and royalties to the Government accounts.
The Aurora project in the community is believed to be in an area which is rich in gold and other minerals. The Governments of Guyana and Canada have given the project their full support and intends to continue with that support in the coming years.
The project was launched 16 years ago.