Almost two years after Guyana officially opened a Consulate in French Guiana, moves are being made by Guyana to alter its perception within the French Administration and to provide better representation for Guyanese citizens living there.
Guyana opened the doors to its Consulate in Cayenne on February 12th, 2016 and for the first time provided services that allowed hundreds of undocumented Guyanese to straighten their immigration status and become gainfully employed.
But as Guyana's Honorary Consul, Travise Tracey – Lecante explained during a recent interview with News Source, the last year was not always smooth sailing although, her appointment was awaited with impatience by the thousands of Guyanese.
She said because of the negative view of Guyanese that existed at the time, it was difficult to even rent an office.
Tracey-Lecante was lucky to secure an office space for free from the French Government but that arrangement only lasted one year and she was out again looking for space to rent.
"They didn't want to rent to me even though it was a Consulate, the fact of having Guyanese come to the building was an issue and it was at the same time when there was the social movement in French Guiana with a high rate of insecurity where most people felt Guyanese were partly responsible," she said.
The woman who was born to Guyanese parents in French Guiana and appointed Honorary Consul in 2014 by the then People's Progressive Party government, said it was even difficult to open a bank account for the Government of Guyana there.
It took her an entire year before she could open the bank account but Tracey-Lecante said the situation and perception of Guyana and Guyanese are slowly changing.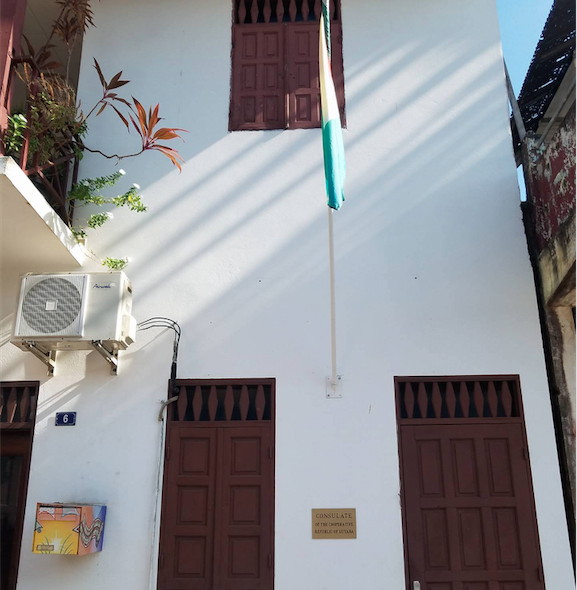 She believes her appointment is a step in the right direction where Guyanese now have someone to look after their affairs and handle issues relating to visas and trade. Before this, the services could only be accessed in nearby Suriname.
"Guyanese now have a voice where they didn't have one before, and I am telling you there is a change in perception. Guyanese can see their flag flying and they have a place where they can come to access information […] it is very important for Guyanese to have someone to defend their rights," she added.
According to a survey done by the French Administration in 2004, there are 3000 to 4000 Guyanese living in French Guiana, but the Consul General believes the number is much higher.
She said there is an ongoing survey and while she awaits the official numbers from the authorities regarding the Guyanese immigrant population she knows for sure that the number is two to three times higher.
"There are three types of Guyanese [living in French Guiana], those who live on welfare, those who own their business and have dual citizenship, and the minority that come and reside here illegally," she said.
The Honarary Consul said she runs the Consulate by herself and says she meets with over 100 Guyanese monthly, essentially for passports and birth certificates.
She said she also communicates by phone with Guyanese who live in France, Martinique, and Guadeloupe and provides whatever help that can be afforded with the limited resources.
She believes she has the advantage to look after the affairs of these citizens in these French countries because she speaks the language and understands customs and how the hierarchy works.
The Honorary Consul is hoping that Government officials from Guyana will soon travel to French Guiana and find ways of cooperation between the two countries. (by Kurt Campbell)