Light evening showers could do little to deter Hundreds of women who gathered at the Merriman's Mall in Georgetown on Saturday evening as the APNU+AFC coalition rolled out its women candidates and supporters for a Women's Rally.
Scores of men were also in the large audience as the women of the coalition covered several issues of concern to Guyanese women and offered solutions that would be put in place should an APNU+AFC government be put in place.
Feature Speaker of the event, Ms. Sandra Granger, the wife of Presidential Candidate David Granger, reached out to the women folk of Guyana and reminded them of the reality facing women across the country as she implored upon them that "better must come".
Ms. Granger who is a retired Asst. Dean at the University of Guyana and Senior Project Officer at CARICOM, spoke of the many challenges she has seen women facing during her travels throughout Guyana at her husband's side on the campaign trail.
She said Guyana is in a worrying state today and has found itself as an abused partner of the People's Progressive Party Civic administration. According to Ms. Granger, Guyana is in crisis and the people of Guyana must stand up and say "no more".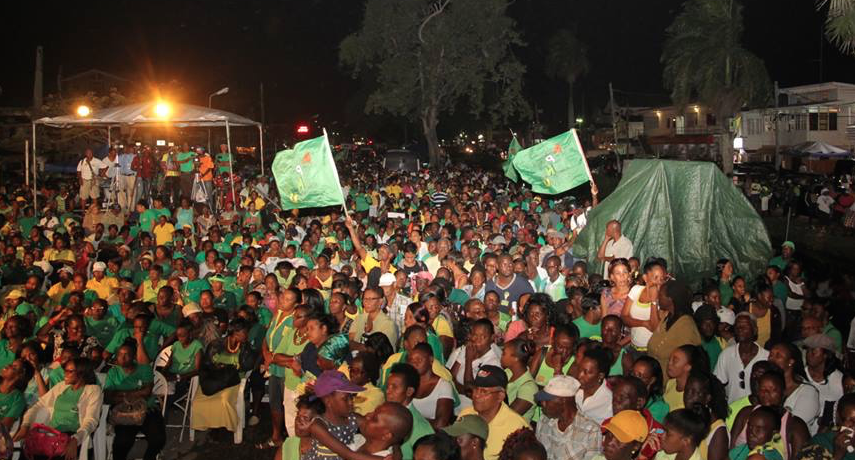 Ms. Granger said during a recent visit to the Rupununi, she was left heartbroken when she saw students in a classroom that had a mud floor. She said the situation is sad and real and teachers have complained about the classroom becoming dusty during the dry weather and flooded out and wet during the rainy spells. She also spoke about meeting a teacher who was forced to teach five classes at different levels because there were no other teachers.
According to Ms. Granger, when it comes to the education system in Guyana, the PPP has proven that it really "does not care".
Ms. Granger also touched on the issue of trafficking of persons and said the government has failed to effectively tackle the problem. She said the PPP Civic administration has turned the serious matter into a trivial one as women and young girls of all races find themselves as human trafficking victims.
She noted that the government cannot be serious about healthcare, when two pregnant women are forced to sleep on the same small bed in the Georgetown hospital and when women have found themselves being provided with expired medication.
The outspoken Sandra Granger said Guyana needs change and it must be delivered.
According to Ms. Granger, Guyanese must not take the upcoming elections for granted and must keep their eyes on the polling stations on elections day.
She encouraged persons to use their phones to take photographs of the statement of polls when it is published on the polling station and keep the photos as evidence to ensure there are no changes. Granger said she is confident that a government led by her husband will offer the solutions to the problems affecting Guyana and ensure a better life.
The wife of the coalition's Prime Ministerial Candidate also mounted the campaign stage to offer her full support and endorsement to the APNU+AFC unity team. Moses Nagamootoo's wife, Sita Nagamootoo, pleaded with Guyanese women and all Guyanese to "join this unity train".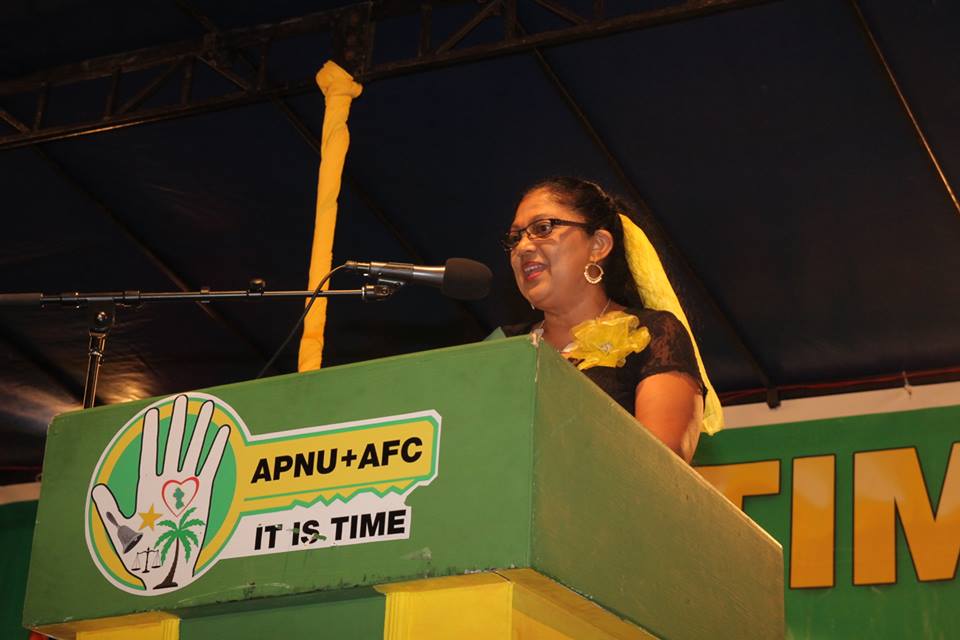 She said the PPP has handed out everything to its family and friends and Guyana deserves better leadership as it moves forward. Ms. Nagamootoo said a vote for the APNU+AFC will see "increases for pensioners, better health care and a a safe environment for all of us".
According to Nagamootoo, women must unite in the upcoming elections and vote for the coalition so that their children and their children could be assured of a better future. She said over the years, she has drawn strength from the lessons of US Civil Rights activist Rosa Parks who had refused to go to the back of the bus which was singled out for blacks during the segregation movement in the United States. Nagamootoo said Parks' decision is one should serve as a lesson for all women to take up their rightful place and fight for what they want.
She said women must be given a greater role to play in the development of Guyana and she is convinced that they will get a better deal under an administration of an APNU+AFC government.
The other speakers at the women's rally included former Member of Parliament Vanessa Kissoon and APNU+AFC Candidates, Simona Broomes, Cathy Hughes, Valerie Garrida Lowe and Volda Lawrence.
Local songbird Charmaine Blackman and gospel singer Mariam Williams offered songs of hope during the entertainment parts of the rally.  (Photo Credit: APNU+AFC)
LIKE us on Facebook:  www.facebook.com/newssourceguyana 
Follow us on Twitter: @newssourcegy