The Government of Guyana is pressing the Kingdom of Saudi Arabia to establish an embassy in Georgetown as the two nations seek to boost their diplomatic and trading ties.
On Saturday, just after the arrival of a high-level Saudi Arabia Government and Business team led by Saudi Arabia's Deputy Minister for Investor Outreach, Badr Al Badr, President Irfaan Ali announced that the Government of Guyana is ready to make land available for Saudi Arabia to establish its first embassy in Guyana and the Caribbean region.
"We are prepared to make the land available for you to establish your embassy in this Region in Guyana and I expect in the next quarter that we must have positive movement on this…We are ready for you to have your permanent footprint here", the President said.
The Government has announced the decision to have a "Saudi Arabia desk" in place at the Ministry of Finance to further boost investment opportunities and networking.
The Saudi Deputy Minister appeared to embrace the thought of a more important presence of Saudi Arabia in Guyana and the Caribbean.  Deputy Minister Badr-Al-Badr told the investment forum at the Arthur Chung Convention Centre that Saudi Arabia is seeking to enhance its business and investment portfolio in the region.
"The Caribbean has become a priority zone for investments and business for investment and business partnership for Saudi Arabia. And Guyana is not only one of the most substantial economies in the region, but in addition, it is becoming a compatriot-owned oil and gas producer. Guyana is for us, a key player in the region and hopefully also a key partner in the energy ecosystem with oil reserves of over US$11 billion, much of which will be available for the international market, your future is unusually bright", the Saudi Deputy Minister said.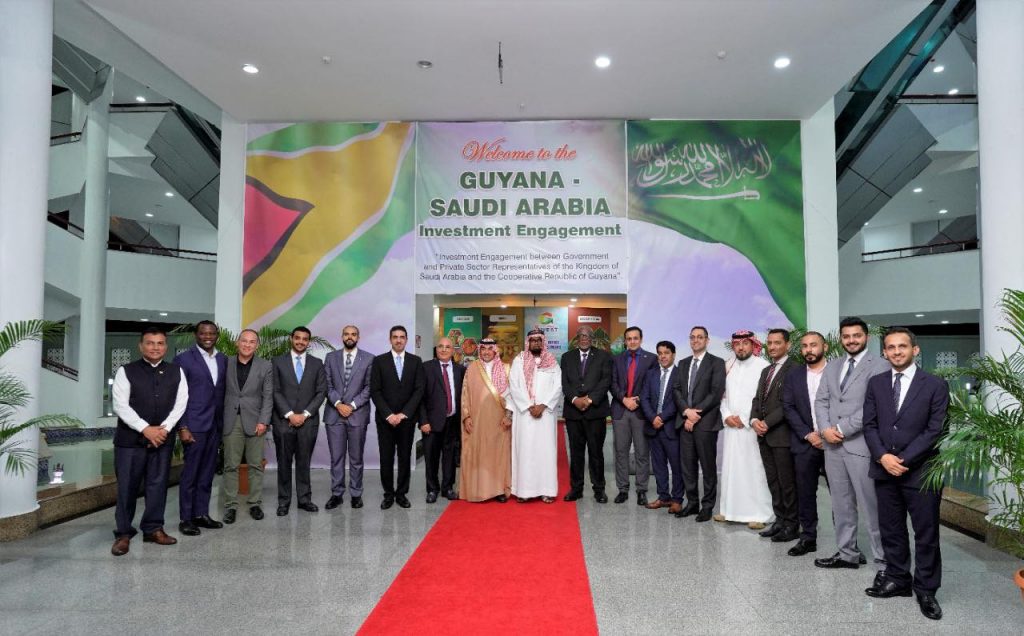 He said the meeting in Guyana allows the Saudi Government to establish ways and opportunities to build deeper investment and trade between Guyana and Saudi Arabia.
The Kingdom of Saudi Arabia has also indicated its willingness and readiness to assist Guyana in looking at ways to use its oil and gas earnings to better modernize and build the economy, noting that the current challenges across the globe make the case for the building of more resilient economies for both Guyana and Saudi Arabia.
"Guyana and Saudi Arabia now have a special prospect to work together in addressing opportunities and challenges", he said.
During Saturday's investment forum, a number of Government Ministers laid out the case for investment opportunities in various sectors across Guyana including real estate, agriculture, and oil and gas development and support. The 65-member Saudi Arabia team was also made up of executives and representatives of some of the largest oil companies and manufacturers in Asia.